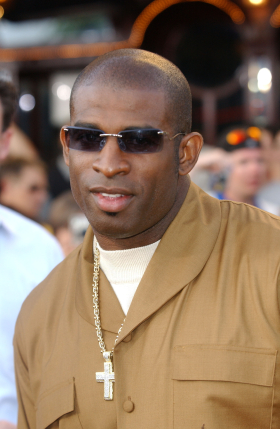 Deion Sanders
This living in public is getting out of control.
On April 23, former NFL defensive back and MLB outfielder Deion Sanders tweeted a picture of himself and his two young sons filling out police complaint forms about Pilar Sanders (Deion's estranged wife and the boys' mother), claiming that she had assaulted Deion in the home he still shares with her.
He also sent out these tweets:
"Pray for me and my kids now! They just witnessed their mother and a friend jump me in my room. She's going to jail n I'm pressing charges!"
"I'm sad my boys witnessed this mess but I warned the police department here that she was gone try n harm me and my boys. This is on my mama!"
Those tweets, and the picture, have since been deleted from Deion Sanders' account (and Pilar has since been jailed and released, although both were cited for assault, according to the Washington Post), but they shall forever remain a watershed in the current trend of the unbridled impulse to share the most personal sentiments and revelations with cascading waves of social media followers.
We've seen politicians and communications pros who ought to know better share opinions and messages that are better left unsaid or untweeted, but bringing one's own innocent kids into the picture is a new low. Deion may have been smart in the short term to use Twitter in real time to influence police actions and public sentiment, but in the long term—it's just ugly.
At least we all now have a new, rock-solid bottom to work from. As if it needs to be restated: The screen on your computer, mobile device or tablet screen is a two-way mirror.
Follow Steve Goldstein: @SGoldsteinAI