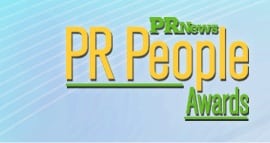 PR News will celebrate the stars of PR at its PR People Awards luncheon at the National Press Club in Washington, D.C., on Dec. 10. Top PR practitioners will not only get recognized for the high-quality work they've done in the past year, they'll have the opportunity to share with their colleagues best practices, lessons learned and predictions for the year ahead.
Awards will be presented in 14 categories (see complete list of finalists), including PR Team Leader of the Year, Social Media Professional of the Year and Agency Leader of the Year. PR News will also celebrate this year's inductees into its Hall of Fame: Harold Burson of Burson-Marsteller; Ellen East, Time Warner Cable; Ray Kotcher, Ketchum; Jack Martin, Hill+Knowlton Strategies; Howard J. Rubenstein, Rubenstein Associates, Inc.; and Gary Sheffer, General Electric.
John Neffinger, author of the recently published "Compelling People: The Hidden Qualities that Make Us Influential," will keynote the Dec. 10 luncheon.
The Dec. 10 PR People Awards luncheon kicks off three days of PR News events at the National Press Club. On Dec. 11 is the One-Day Boot Camp for Emerging PR Stars, and on Dec. 12 is PR News' annual Media Relations Next Practices Conference.
See more information about the PR People Awards luncheon.
Follow Steve Goldstein: @SGoldsteinAI