▶ Innovation is on Everyone's Mind (Sort of):
Despite the growing importance of innovation, line extensions continue to take precedence over product development, according to a recent study by Accenture.
The study, which took the pulse of 519 executives at large U.S., UK and French organizations with revenues exceeding $100 million, reveals that there are two major obstacles standing in the way of bolstering revenue returns from innovation: companies being too conservative and the so-called "invention trap" (or lack of infrastructure to bring a new product to market efficiently).
Here are some other stats from the survey:
• 70% of respondents say that innovation is among their top priorities, with 18% saying it is the top priority.
• 52% of respondents from the communications sector consider innovation "extremely important."
• 51% of respondents report an increase in funding for new products and services, versus 10% who scaled back.
• 60% of respondents state their company has a chief innovation officer, up 6% from 2009.
• Only 18% of respondents believe their innovation strategy is "delivering a competitive advantage," despite 93% indicating long-term success is dependent upon innovation.
Source: Accenture
▶ No Longer Exotic, Tablets Go Mainstream:
Tablets and mobile devices, of course, rate as one of the biggest innovations in the last decade.
According to recent NPD Group and IDC studies, there are upwards of 32 million Web-accessible tablets in the hands of consumers right now, while shipments of tablets were projected to grow by 142% in the first quarter of this year.
Below are some other nugs from the studies:
• 93% of U.S. households are now connected to the Internet.
• Smartphones are now in the hands of 57% of cell phone users, up 5% compared with 2012.
• 53% of Internet households now own tablets, up 18% compared with 2012. PRN
Sources: IDC, NPD Group
Most effective communication channels for information about social and environmental programs and products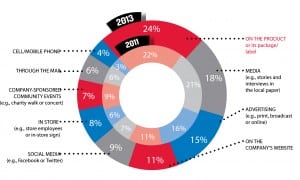 Traditional channels continue to reign supreme when it comes to reaching consumers about your CSR initiatives, according to the 2013 Cone Communications/Echo Global Study. On-pack (24%), in the media (18%) and advertising (15%) were deemed the most effective conduits for CSR communications, the study said.
This article appeared in the June 3 issue of PR News. Subscribe to PR News today to receive weekly comprehensive coverage of the most fundamental PR topics from visual storytelling to crisis management to media training.