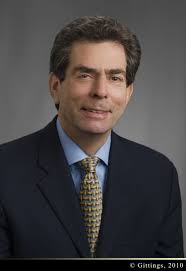 How should brands, organizations and other entities counter bad news or what they believe to be inaccurate reporting? Melanie Streeper, a public information officer for the St. Louis City Comptroller and a former TV journalist, took an interesting tack when Elliot Davis, an investigative reporter from Fox affiliate KTVI-2, recently tried to interview City Comptroller Darlene Green about whether she had been using a city take-home car that reportedly was costing taxpayers $26,000. After Streeper rebuffed several of his emailed interview requests, Davis decided to go to City Hall, find Green in the hallway and question her on camera. Once found, Green started to respond to Davis's questions about the city-owned car. That is, until Streeper suddenly stepped in and repeatedly said, "No, no, no." Then Streeper, shielding her face from the camera with a folder, whisked Green into a room closed to media. Interview over.
Watching the footage, who do you think comes off badly and, worse, less than professional?
The episode raises key questions for communicators: What is the best way to react to negative news? Since many stories fade quickly, is a reaction always warranted? By responding, you run the risk of keeping the story alive and encouraging additional coverage. Still, there are times when a response is necessary to curtail a serious hit to your reputation and/or sales. Every situation is different, of course. Once you have decided to respond, though, it's best to select a mix of media channels and tactics that match your stakeholders and messages.
You can choose from traditional channels such as press releases, press conferences and op-ed articles. Then there are social media platforms such as Facebook, Twitter, YouTube and Vine. You also can meet critics face-to-face, but you should do so off the grid. Recruiting third-party advocates, who have their own channels, is yet another possibility.
THE FACE-TO-FACE APPROACH
Following its reputation debacle in 2013, Barilla Pasta began by using YouTube, but needed additional tactics to allay its fiercest critics. The crisis broke when Barilla CEO Guido Barilla insulted the LGBT community, saying he would never allow gays to appear in Barilla ads. He even suggested that gays should buy a different brand of pasta.
The comments created a social media firestorm and sparked calls to boycott Barilla pastas and sauces. The CEO issued a video apology (youtu.be/2Tg61KYPLqQ), but consumers and large accounts, such as university dining services, continued boycotting the company.
The resolution to this bad news had to be planned and executed over time; it meant contacting and building relationships with the offended groups. After months of meetings and other actions, including creating a diversity counsel, Barilla was able to turn around the issue.
The change was so dramatic that NGOs, such as the Human Rights Watch, now praise the company (wapo.st/1xUXv3g).
As is often the case, the articles touting the turnaround were not as numerous as initial reports of the controversy. But the response from the LGBT community has been sincere and heartfelt.
Understand, though, the engagement attempt could have backfired for Barilla. Instead of agreeing to meet with the company, critics could have continued to bash the brand. In this case, however, Barilla's engagement strategy paid off.
USING VIDEO FOR A DEEPER RESPONSE
There are other ways to combat what you consider unfair media coverage. Consider Wal-Mart and how it countered an investigative newspaper article. In April 2012, The New York Times ran a front-page article replete with allegations of Wal-Mart's bribery and corrupt practices in Mexico (nyti.ms/1Lrjv9A).
Rather than confine itself to a few comments/quotes in the newspaper, that afternoon Wal-Mart decided to post a video on YouTube (youtu.be/hFEdA3iVREI).
David Tovar, Wal-Mart VP of corporate communications, offered the company's point of view. Why did Wal-Mart choose YouTube? Why not an ad in the Times or other publications? Perhaps send an email to employees, shareholders and other stakeholders? In fact, several of those tactics also were used.
But the YouTube video was perhaps the best channel to reach employees, shareholders, customers and vendors. These groups undoubtedly were curious about the company's reaction and wanted more than a one-sentence statement in a newspaper. Through YouTube, stakeholders were able to see and hear a fuller, more passionate response.
Advantages of the Wal-Mart approach:
Rapid, same-day response
One-way communication to stakeholders
Video communicated tone and commitment, not just words
The above examples illustrate several ways to respond to bad news, each with its pros and cons. The Wal-Mart You-Tube video was one-way communications, prepared and edited by the company.
Similarly, the Barilla meetings were private, avoiding the media glare. Those conversations with the LGBT community were frank, difficult and probably very heated. Yet, the company was more interested in the end result, rather than attempting to make points immediately by conducting the dialogue in public.
CONTACT: Andy Gilman is president-CEO of CommCore Consulting. He can be reached at agilman@commcoreconsulting.com
This article originally appeared in the July 13, 2015 issue of PR News. Read more subscriber-only content by becoming a PR News subscriber today.