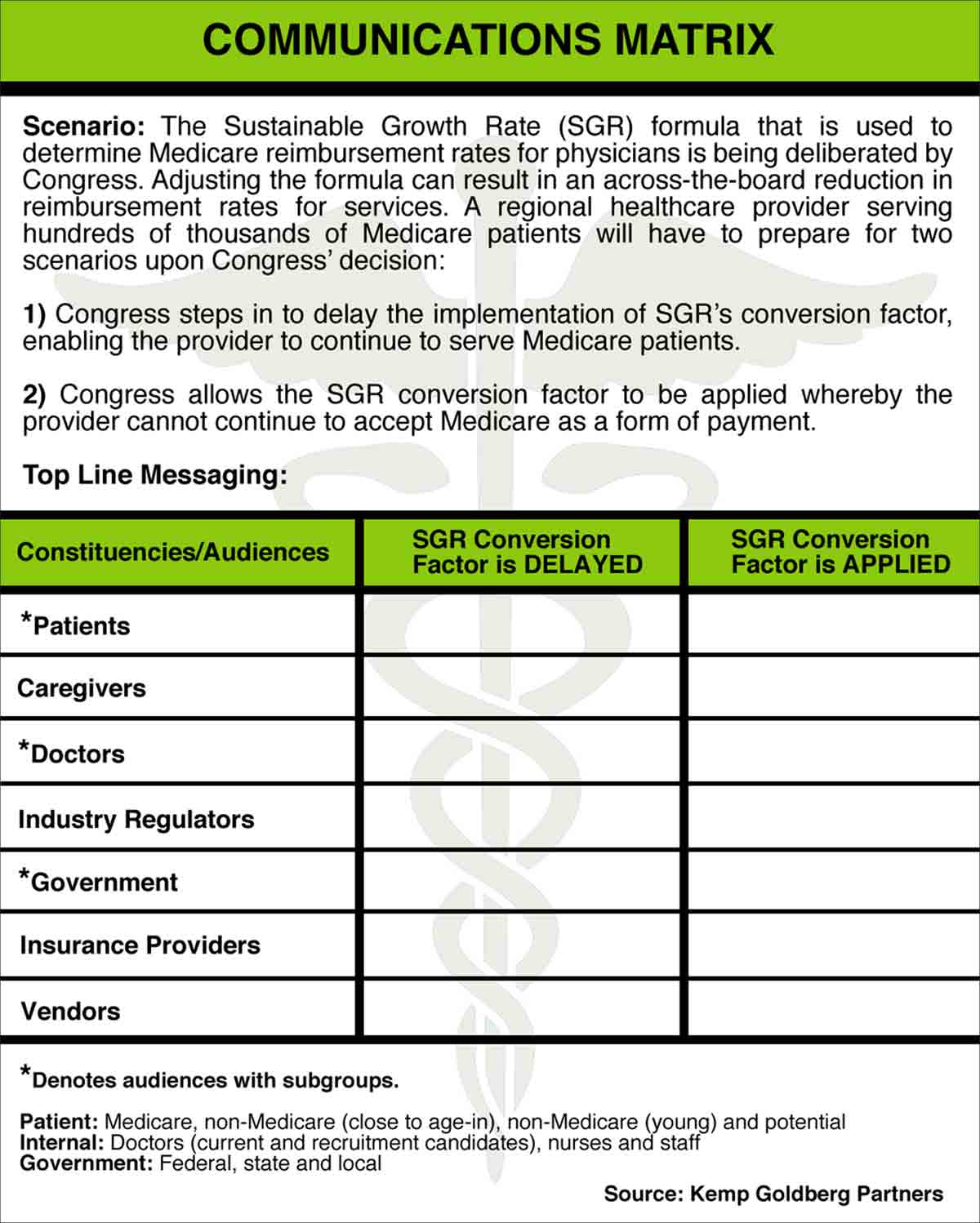 Kemp Goldberg Partners used this communications matrix, which helped formulate and track campaign messages, to manage a Congressional Medicare decision affecting a regional healthcare provider
Creating multiple messages in advance of an outcome of a court or regulatory ruling, or before a crisis hits, is a key practice in PR. In fact, the motto "Be Prepared" can be applied as much to communications professionals as to the Boy Scouts of America. But within the last six months, this messaging PR practice has been ramped up significantly, particularly in Washington, D.C., and its political environs.
The cause? The June 2012 ruling by the U.S. Supreme Court on the constitutionality of President Obama's Affordable Care Act. As The New York Times reported, the decision was Washington, D.C.'s "O.J. Simpson verdict crossed with a papal conclave—polarizing, maddeningly unpredictable and shrouded in mysterious signaling."
ALL IN THE PLANNING
While waiting for the ruling from the Supreme Court—which ultimately upheld the healthcare law—communicators on both sides of the aisle crafted multiple messages claiming complete or partial victory, whatever the outcome. Solid PR planning ensured that no one was caught flat-footed with their messaging (although no one could have expected the blunders from CNN and Fox News, which both reported initially that the individual mandate had been struck down).
It was a luxury that communicators from Congress, healthcare organizations, consumer groups and other entities had several months to prepare for the ruling, says Patti Reilly, senior VP of communications at the Association of American Railroads. "It's important to have time to line up your echo chamber and be able to execute on the news right when it happens," she says.
That echo chamber is powerful, and if stakeholders and the experts PR has lined up to comment aren't in sync, it could make for a bad day, says Jonathan Collegio, communications director for American Crossroads and Crossroads GPS, Karl Rove's Super PAC and nonprofit, respectively.
"If you're outside of your team's talking points, negative news about that would overshadow anything positive you could say about the issue being decided," says Collegio.
MEATY MESSAGING
While the job of crafting multiple messages is clearly PR 101, keeping your messages in sync can be a challenge. Depending on the organization, those groups with stakes in the Supreme Court Affordable Care decision most likely had multiple audiences to communicate to, with different messages for each one. Derek LaValle, partner at Portland, Maine-based communications agency Kemp Goldberg Partners, deploys a "communications matrix" to match the right messages with the right audiences.
This grid, says LaValle, provides a framework for internal discussion on whether secondary messages are in sync with the overall message. "Think about what went on in the White House, as the communicator who covered AARP had their message about the healthcare ruling, and the person who covers Hispanic outreach had their own message," says LaValle. "Matching those with the overall White House message is critical."
The outcomes from the messaging are only as good as the content of the messages, says Collegio. "Smart communicators will get the policy experts in the room first, figure out the fundamentals of each different outcome, then message each in as succinct a way as possible, and turn that message into a statement."
Once messages are determined and mapped, media tactics are thrown into the mix. Communicators should alter a reaction depending on the journalist and/or the publication, says Reilly. As a decision nears, key reporters already pitched are pinged again, says LaValle. It's critical to be on journalists' first-call lists for reactions, he says.
Then, how you distribute your messages—as a press release, as a tweet or Facebook post or as talking points for a radio interview—is paramount. "Match your target audiences with the platforms they're most likely to use when the news breaks," advises Collegio.
For Reilly, a response to a regulatory decision isn't automatic. "Often we choose not to comment on something," she says. "I'll instead have an 'if-asked' statement ready—if asked, here's our reaction."
Reached in the days before the ruling, Collegio said American Crossroads probably would not be crafting messages in preparation for the announcement: "There are so many people in front of us with reactions—there are too many layers to get through to get our message up front."
Whatever the messaging strategy American Crossroads ultimately chose, you can be sure that Collegio upheld the Boy Scouts' motto.
CONTACT:
Patti Reilly, preilly@aar.org; Jonathan Collegio, jacollegio@americancrossroads.org; Derek LaValle, dlavallee@kempgoldberg.com.