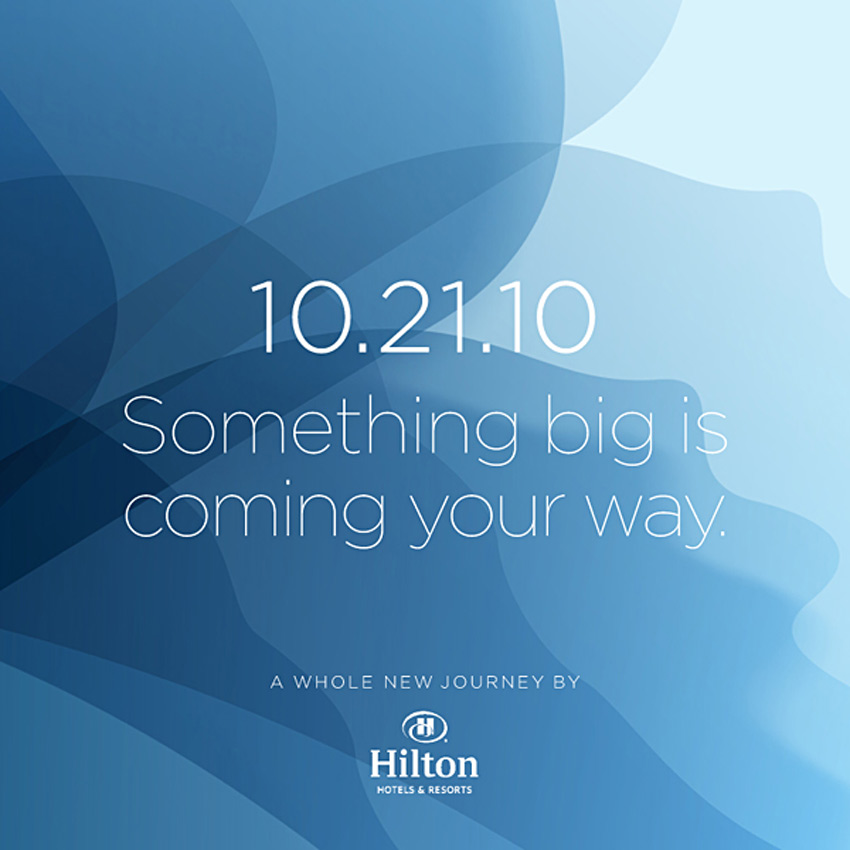 Big event, small hint: Save-the-date e-mails were delivered to media leading up to the global premiere of the eforea: spa at Hilton in Short Hills, N.J. The e-mail was scant on details, while hinting about an upcoming "journey."
(c) 2011 Hilton Hotels & Resorts
Company: Hilton Hotels & Resorts
Agencies: Murphy O'Brien Public Relations/Covalent Logic
Timeframe: July 2010 - Ongoing
Diving into the cluttered space of spa brands, Hilton Hotels & Resorts needed to make a notable splash. The spa experience has become an integral part of contemporary travel, and to meet this growing demand, Hilton prepared to introduce "eforea: spa at Hilton," its first branded spa. Of course, earning extensive media coverage would help present eforea as a fresh experience offered by an established brand. Hilton needed to launch eforea as a new global spa concept—and one that is better than its competitors' spas.
In a three-month period starting in July 2010, a combined 10-person PR team from Hilton and agencies Murphy O'Brien Public Relations and Covalent Logic devised a plan to entice a range of media to cover the global launch of eforea in Short Hills, N.J., on Oct. 21, 2010, to bring the message to consumers, future guests and potential developers.
Goals and objectives for the launch included:
• Secure consumer and trade media coverage about the new spa to generate interest from guests and property owners who develop hotels under the Hilton brand; reach outlets in which the brand had traditionally been absent; and position Hilton as a legitimate force in the spa industry.
• Generate sales leads and ultimately increase the development of eforea: spa installations worldwide.
• Extend brand cachet by showcasing the style, sophistication and contemporary relevance of Hilton Hotels & Resorts.
MEDIA MASSAGE
Hilton launched an aggressive, multi-phased approach to capture the attention of traditional media, social influencers, bloggers and celebrity-focused outlets. Direct, personal outreach to key target media enabled Hilton to generate buzz among a wide circle of reporters and recruit a group of media ready to pounce once its formal announcement was made. The organization's core press Web site, The Hilton Global Media Center, was to be used to tout the New Jersey event and worldwide launch.
The outreach twist: The team would pique interest without unveiling specifics about the concept or that Hilton was even preparing to introduce a spa brand. Hilton wanted to own the spa space on the day of its major global announcement—withholding the name, logo and specific details of eforea: spa at Hilton until the formal launch.
Save-the-date e-mails were delivered with a design aesthetic that hinted at a new "journey" from Hilton, without disclosing the eforea name or any other spa-related details. Reporters clicked through the image (pictured) to RSVP online at the same Global Media Center Web address that would—post-launch—house the electronic media kit. Murphy O'Brien's phone pitching and follow-up alluded to it being a global announcement in the wellness space, but did not reveal the plans for the event or the actual launch announcement details.
The media kit, once made available online the night of the announcement, needed different aspects to show the depth of the story and bring it to life in order to help a reporter—or investor—understand the new spa concept, says John Forrest Ales, director of global brand public relations for Hilton.
"This was new territory for us in the eyes of the consumer because we didn't have a known presence in this space," says Ales. "We decided to create a brand experience for those on hand, and to produce a 'come out all at once brand story' full of digital assets to be available online immediately after the event," says Ales.
In launching its first branded spa concept, eforea: spa at Hilton, in 2010, Hilton Hotels turned to digital outreach to get the word out among journalists, creating a microsite available within its Global Media Center. At the initial launch in New Jersey, more than 320 photos were downloaded from the site to be used in print media and online. In 2011, aggressive media outreach caused the site to spike three more times, with two launches in Thailand and one in Australia. Source: Covalent Logic
DIGITAL HOME
Stafford Kendall, principal at Covalent Logic and leader of the campaign's digital efforts, says her team's goal was to make the Web presence reflect the spa's brand identity, but also to tie it to the existing Hilton Global Media Center.
"The regular travel press are very familiar with the Hilton Global Media Center, but we wanted the newly targeted beautification and cosmetics publications who would be visiting the eforea page to see it was part of a larger Hilton brand story," says Kendall. To make the launch truly global, the press release announcement was translated into 14 languages.
The team needed to secure interest, manage logistics of transporting media and serve as a "concierge" for media guests. Personal phone calls helped the team engage reporters, gauge interest and secure coverage. Media in Manhattan were picked up in private town cars transformed with the look and feel of eforea.
"PR pros need to be mindful of all logistical aspects from start to finish, and in this case, offering transportation was one way that we overcame the challenge of holding an event outside of Manhattan," says Sarah Siler, VP, Murphy O'Brien. Upon arrival, media received a first-look tour of the new spa, met key product partners and received mini spa treatments before party guests arrived. Blue carpet arrivals fed a steady stream of celebrity photos to a variety of entertainment outlets.
Meanwhile, the team also wanted to make a quick impact and drive the conversation online immediately after the launch. Bloggers were pitched to for their coverage immediacy and to capture the energy of the announcement party.
Since the news wasn't released in advance, the Murphy O'Brien team secured a media exclusive in The Wall Street Journal that would hit the morning of the launch and also coordinated stories for that afternoon in The New York Times and USA Today.
GAME ON
The minute the event launched, the team flipped the switch on the eforia microsite, and reporters were instantly provided with embeddable videos and tours with Hilton executives, photos and spa treatment information. "Something as basic as having a friendly URL (HiltonGlobalMediaCenter.com/eforea) during our pitching helped the media remember it as the hub," says Ales.
For Ales, the most difficult part of the campaign was keeping media in the dark prior to the event.
"We wanted that 'aha!' unveiling moment," says Ales. "We didn't want the logo and matted color schemes to get out, and we had to get creative about how we communicated to reporters to give them a general sense that this was an important global announcement and not a run of-the-mill statement."
For Kendall, building a digital strategy to boost the critical 48-hour press period as well as create a sustainable resource was the biggest challenge. "For an event we may create a static microsite, but this had to be manageable for future launches," says Kendall. If given a second chance, Kendall says they would have integrated the eforea more fluidly with the Global Media Center.
RESULTS PARTY
The event, which was more of a high-profile party than a press conference, landed Hilton placements in outlets and blogs around the world within hours. Specific results included:
• More than 70 media brands the launch event including Condé Nast Traveler, Men's Health, Fitness, Good Housekeeping, Travel Weekly, American Spa, Travel + Leisure and Cosmopolitan, among others.
• Hilton flew reporters from key target outlets in Australia and the U.K.—two major markets for eforea development—to the event. Bloggers and journalists covering lifestyle, fashion, beauty, health and niche areas joined traditional travel consumer and trade reporters. In all, there were more than 120 placements in consumer, trade and entertainment outlets, with a total circulation of more than 140 million.
• The media landing page on the Hilton Global Media Center received more than 7,000 page views to date, with 4,500 views directly to the landing page from interested media.
• The far-reaching exposure of the launch led to 67 development inquiries from owners and investors, and within two months of the launch, 11 of those inquiries led to confirmed spa openings in 2011.
For Hilton, the eforea brand is proving to be a major success. It has expanded into New Zealand, Australia, Thailand and will be in China in 2012. When each new spa is opened around the world, the local media experiences the rather personal launch process, too, with fresh quotes, videos and pictures. PRN
CONTACT:
Stafford Kendall, stafford@covalentlogic.com; John Forrest Ales, JohnForrest.Ales@hilton.com; Sarah Siler, ssiler@murphyobrien.com