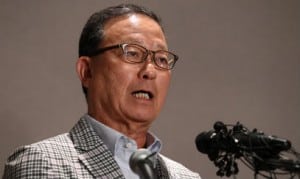 In the immediate aftermath of the July 6 crash, Asiana Airlines has on several occasions shown a willingness to be forthcoming and accessible, at the highest ranks of the company. The CEO and other company representatives spoke the day after the crash, even as the causes of the tragic incident—which led to the deaths of two people and injured more than 100—are still unclear. From a communications perspective, the company's approach is noteworthy.
Asiana spokeswoman Lee Hyomin made a quick and concise statement about the pilot, Lee Gang-guk, saying that while he had logged more than 10,000 miles flying other aircraft, he only had 43 hours of experience flying a 777. Accident investigators are investigating whether pilot error, mechanical problems or some other factor was to blame for the crash. Asiana Airlines CEO, Yoon Young-Doo, ruled out the possibility that mechanical problems were the catalyst, according to AP. He also stressed that he did not mean to imply that he was convinced the pilot was to blame either, reported the AP.
As the details of the event continue to unfold, Asiana Airlines appears to be attempting to publicly state what it knows and be as transparent as possible. The company seems committed to openly engaging stakeholders, regardless of how the answers will make the airline look.
Follow Lucia Davis: @LKCDavis.