Winner: Jiffy Lube International – "Muscle UpSM" with Jiffy Lube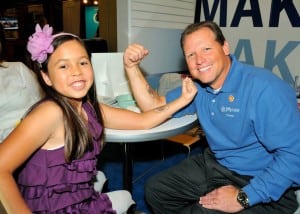 Looking to soup up its support for the Muscular Dystrophy Association (MDA), auto-repair company Jiffy Lube International set out to raise $1 million for the nonprofit association. Working with Cone Communications, Jiffy Lube in August 2012 rolled out the Muscle UpSM campaign. In addition to motoring up participation among Jiffy Lube franchisees, Cone developed a dedicated Muscle UpSM experience as a tab on Jiffy Lube's Facebook page to share campaign details in a user-friendly format. Jiffy Lube pledged to donate $1 to the Muscle UpSM campaign for every new fan that "Liked" the brand Facebook page.
To appeal to consumers the tab was chock-full of content designed to spread the message, including a Muscle UpSM event photo gallery and campaign video. It also included pre-populated tweets with the #Muscle UpSM hashtag for easy, multi-platform sharing. Cone also reached out to bloggers to help drive awareness among mom, saving and general lifestyle bloggers. The subsequent blog posts drove traffic to the Jiffy Lube Facebook page, boosting both the Facebook fan base and Jiffy Lube's donation to MDA. Harnessing the power of Facebook to unite customers, Jiffy Lube service centers and MDA supporters were able to surpass the $1 million fundraising goal.
What's more, the campaign helped the Jiffy Lube Facebook page reach the 10,000-fan milestone just two months after launching and, perhaps most important, created positive awareness of Jiffy-Lube's cause-marketing efforts. —Matthew Schwartz
Honorable Mentions:
· ABC National TV Sales - "Be A Hero, Save A Hero" Fire Safety Campaign
· Cisco Systems – Cisco's How Do You Give Back Campaign
· Cohn & Wolfe – It Takes a Mouse to Save a Fish
· Bounce Energy's Charity "Like" Campaign
· Nordic Naturals - Norvember
· U.S. Department of Veterans Affairs – Make the Connection
· Weber Shandwick – Summer Miles Challenge: 43,000 AAdvantage Members Gave Smiles and Donated Miles to Kids In Need