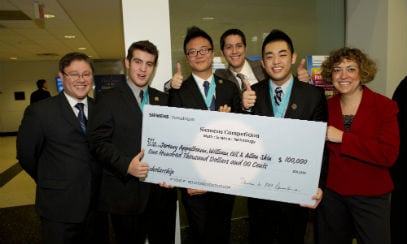 Winner: Momentum Communications Group
This past year, Momentum Communications Group has used its campaigns on behalf of nonprofit clients Knowles Science Teaching Foundation (KSTF) and Siemens Foundation as successful testing grounds for new ways to develop influential spokespeople.
Its Activating Reluctant Spokespeople campaign for KSTF supports high school math and science teachers with long-term professional training.  KSTF looked to Momentum to transform teachers into advocates, counter negative press coverage about teachers and advance the national dialogue about the complexities of teaching.
Momentum surveyed KSTF participants after their training and found that 72% believed the training heightened awareness on how to best use media. Not only that, KSTF collected 201 million media impressions nationwide, following its work with Momentum.
Training Teens to Explain Science was designed to aid the Siemens Foundation's Competition in Math, Science and Technology. The objectives were to provide students with the media training and confidence necessary to effectively discuss science with the media—100% of the national finalists were quoted in 679 news stories, which reached 1.38 billion people.
Momentum's company name is fittingly appropriate as it is effectively driving its clients' messages forward by transforming unlikely suspects into media-savvy spokespeople.
Honorable Mentions:
Finn Partners
Pollock Communications
PRR