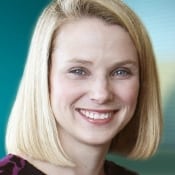 Today's blog post from Yahoo CEO Marissa Mayer announcing that an update to the Yahoo homepage would be rolled out in the next few days marks another change in the digital company's culture.
Since joining the pioneering but troubled Internet company last summer, Mayer has instituted several internal changes to improve Yhaoo's morale and values. Sure, removing the company's stock price from the homepage of the company's intranet and making meals free are small-bore changes, but they add up.
Now comes an external culture-change component. On the blog, Mayer frames the website update around a "new, more modern" Yahoo, designed to be more intuitive and personal. New applications announce local weather forecasts and Facebook friends' birthdays—a most importantly for reaching Yahoo users where they are, the site is optimized for smartphones and tablets.
In her relatively brief tenure, Mayer has instilled a coolness (and "calmness" for that matter) quotient that no doubt is picked up on internally, and, as we reported in January, externally with the media, as well.
With today's announcement, it appears that Mayer is seamlessly moving Yahoo's culture in the right direction, a task that many considered almost impossible a year ago.
Follow Scott Van Camp: @svancamp