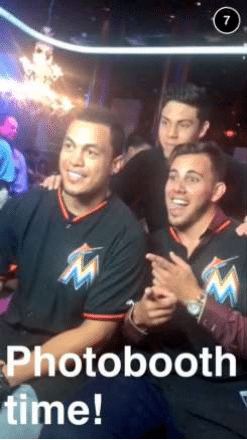 As Snapchat makes its way into the content creation space with the Discover feature, more and more communicators are beginning to see the platform as a tool with incredible potential. At the same time, some PR pros are still reluctant to adopt the system. One of the reasons behind that hesitation is that there still isn't a good way to accurately measure the impact of your work on the platform.
Still, Snapchat's users represent that ever-elusive and important youth demographic. It has the potential to convert young people into loyal brand ambassadors and future customers. For some brands, that opportunity is too good to pass up.
Snapchat's unique ability to reach a younger audience is one of the main reasons that the Miami Marlins developed a presence on the service. For athletic organizations, life-long fans are developed at a young age. Taking what he's learned from building a Snapchat presence from the ground up for the Marlins, Alex Buznego, director of business and digital innovation for the Marlins, offered an in-depth case study of his experiences to attendees of PR News' Digital PR Conference in Miami on Wednesday.
Here are seven tips from Buznego's case study to help communicators reach new audiences on snapchat.
Embrace a light, raw finish for your content. Imperfections promote authenticity and are part of the game on Snapchat.
Give your followers access to interesting, exclusive content.
Cross-promote your content on other platforms, especially visual mediums such as Instagram.
Keep your expectations low. The lack of good analytics tools means you may not know what the effects of your work are.
Use your cross-promotion efforts on other platforms as a way to measure and gauge feedback.
Only attribute a small amount of your teams bandwidth to the platform—for now.
When launching your Snapchat account, be aggressive on other platforms to convert those who follow you on other channels.