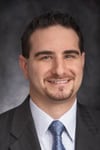 David Bell
When Apple's legal department sent a letter demanding mobile phone application creator GetJar cease its use of the term "app store" in July 2011, the result was not what Apple had hoped for.
GetJar's CEO responded publicly, mocking Apple. "GetJar won't be subject to this kind of bullying," he said. "We're not going to cease and desist. We were here long before Steve & Co. In the words of Twisted Sister: We're not going to take it! Steve Jobs isn't our Dad."
Cease-and-desist letters generally have the same goal, to persuade someone to stop or remove something immediately, but not all elicit a favorable response.
In the past, letters would fall on the receivers' (or their lawyers') desks only. But with social media spreading these letters like wildfire, companies should take proper steps to ensure they have crossed their T's and dotted their I's if—and when—the public gets a look at them.
For example, a public relations nightmare recently occurred when popular women's clothing store Forever 21 issued a letter to blogger Rachel Kane to take down her blog WTForever21.com. Similarly, a furor was raised when Best Buy sent a letter to another electronics store, Newegg, requesting a Best Buy-targeted parody advertisement be pulled from the air.
Each of these letters used strong words to accuse the recipients of either infringement or unfair competition. But, because of this aggressive language, the recipients publicly described the senders as bullies, causing the cease-and-desist scare tactics to backfire.
Newegg posted the letter on its company Facebook page, and Rachel Kane distributed hers like candy to tier-one blogs. Needless to say, the comments that followed showed little sympathy for Best Buy or Forever 21.
In the new age of social media, the old, lawyerly "cease-and-desist" letter can become kryptonite. Companies and their legal departments need to be careful when communicating with potential opposing parties, keeping in mind potential backlash. One aggressive letter or e-mail could land a full-page blog post, thousands of retweets and bad PR for the sender.
Here are five things to consider when writing a cease-and-desist letter:

1. Research the individual or company to whom you plan to send a cease and desist notice. Are you dealing with a fan? Well-meaning student? Satirist? A competitor or counterfeiter with bad intentions? Think about how your proposed notice will be received, and how it would play out in the press or before a judge. The additional time researching and writing an appropriate letter is always well spent. It can help to avoid a PR fiasco, and in some cases lower the risk that the recipient will file a preemptive lawsuit.

2. Avoid using form letters or emails for distributing cease and desist notices. Personalize the letters to fit the situation and remember your company and customer's voice. Use corporate messaging and avoid coming across as a bully.

3. Use a tone in the notice that is appropriate to the situation. It should parallel the company's level of concern, speak appropriately to the person who will receive the notice, and accurately reflect the company's own public image and values.

4. Polite requests often are more effective than aggressive cease-and-desist notices. If the situation involves truly abhorrent behavior by an infringer, however, then strongly consider having a letter sent by the company's outside counsel. Among other advantages to doing so, this allows the company to distance itself somewhat from any harsh tone necessarily included in the cease and desist notice.

5. Keep in mind that a cease-and-desist notice is almost never confidential or privileged. Even if you label the notice "confidential," in the freewheeling world of social media it is likely to end up on the recipient's blog or Web site, or in the news.
Before sending out cease-and-desist letters, companies should evaluate the tone and language, weigh PR against business risks and determine legal needs before taking action to protect their brands. Had Forever 21, Best Buy and Apple taken social media's expansive reach into consideration, they might have stepped more carefully.

David Bell is a partner in the Dallas office at Haynes and Boone, LLP. He is the chair of the firm's new Social Media Practice and can be reached at david.bell@haynesboone.com.
To learn more about managing the legal risks in social media, attend PR News' November 10 Twitter Conference in Las Vegas.