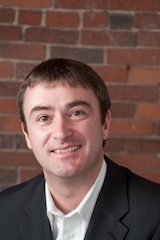 Martin Jones
For many companies, investing in a trade show can represent a sizeable chunk of the year's marketing budget. The question is then—why do companies not make more of this investment by planning and implementing intelligent communications around the event?
There are a number of things that can be done to get the word out to increase awareness before, during and after the event. If you are able to increase the visibility of your event participation, booth traffic will be higher and visitors will be better informed.
Whether you're gearing up for a large show, such as CES, or a smaller, more niche event like GigaOM Structure, it's important to have it all planned out. A creative and well-thought PR campaign around a trade show will not only increase awareness and visibility, it will give you a much higher ROI.
Here are some activities to consider in the run-up to the show:
News Pipeline – Think how you can make the most of news in the lead up to the event. A series of well-spaced announcements can peak interest and encourage people to check you out at the show. Whether highlighting new customers, company news or speaking opportunities and sponsorships, be sure to include the booth number in press releases and pitches to generate additional foot traffic, and consider using a wire service.

Speaking Opportunities – Interact with show organizers to determine deadlines for submitting speaking proposals, also known as Call for Papers. This is a great way to create extra client exposure for key thought leaders at your company.

Award Opportunities – Research potential award opportunities sponsored by the event. These awards typically honor superior innovation and contribution to the industry. Ones to check out include NAB Show, RSA Conference and TM Forum.

Media and Analyst Relations – Make sure to get a copy of the show media list as soon as it's available. Develop insightful and informed pitches when reaching out to attending press and analysts to secure briefings at the show. Be mindful that journalists and analysts receive hundreds of pitches leading up to the event, so make sure your pitch stands out and touches on key industry trends.

Build your Network – Engage with others attending the event via the conference's Facebook, LinkedIn and Twitter pages. Social media tools are also great ways to secure meetings with the press and analyst community. By searching Twitter for relevant industry and conference hashtags, the search becomes more focused leading to faster results.

Editorial Coverage – Increase event exposure through pre-show briefings and editorial coverage. Publications often run pre-show stories or "Show Daily" features, both listed on editorial calendars.

Preparation – Prepare your client for the arranged meetings with a briefing document, a cheat sheet containing pertinent information such as media background, talking points and relevant articles.

Logistical Support – Offer logistical support around the event, such as liaising with event organizers, graphic designers and printing vendors. Coordinate event giveaways and collateral to increase booth traffic.
There are also plenty of ways to carry on throughout and after the event, including:
Social Media – "Checking in" using location-based tools such as Foursquare will allow clients to see who else is at the event, leading to potential impromptu meetings. It's a great way to build connections at your fingertips.

Press Room – Scope out the press room upon arrival at the event. This is where the media often hang out and is a great chance to meet up with members of the press you were unable to connect with prior to the start of the show.

Video Footage – Capture interviews with key executives and post the videos on YouTube. By creating a YouTube channel for your client, you're increasing exposure through multimedia.

Events within the Event – Seek out mini-events within the main event to create additional client awareness and press exposure.

Networking – After a long day of standing, interviewing and product demoing, attendees seek relaxation with a cocktail. Check the trade show website or show guide for the latest on receptions and socials being offered at the event. Often times, you'll find members of the press community there as well.

Post-Show Editorials – Monitor editorial calendars for upcoming post-event features. This will provide you with a great opportunity to follow up with media you may have missed at the show or for those who had booked schedules.
It's never too early to start preparing for the busy trade show season. With key industry shows just around the corner, start thinking about you can incorporate some of these tips into your trade show planning.
Do you have other tips to share?
Martin Jones, managing partner and co-founder of March Communications, has been developing new and creative ways to promote companies and brands, whether emerging or well-established, for 20 years. He can be reached at Martin@marchpr.com.