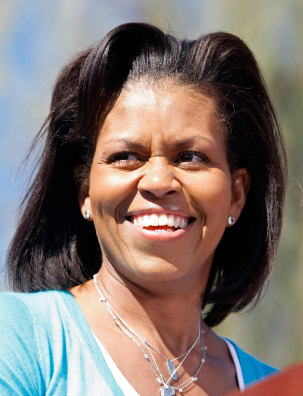 Michelle Obama
The DNC speech by Michelle Obama on the night of Sept. 4 supercharged the Charlotte crowd. Indeed, most of the reviews of the First Lady's speech were glowing. And if social media buzz was any indication of success, Obama hit it out of the park: 28,003 tweets-per-minute at its peak, nearly double the 14,289 mark reached by Mitt Romney's acceptance speech at the Republican convention last week, according to Mashable.
This level of success rarely comes without preparation. Smart PR handlers know, media training plays an important role in any public appearance. Using media training/speech tips offered (in italics) by communications consultant Jennifer Rabin, we give the First Lady her convention speech report card:
Maintain good posture. Keep your shoulders back and your head held high. The First Lady did this well. She no doubt benefited from considerable rehearsal time—knowing just where to stand in relation to the lectern and microphone. Her toned shoulders and arms didn't hurt the appearance of good posture, either. Grade: A
Use gestures. A boring speaker keeps her arms firmly planted at his side and never uses his hands for emphasis. A nervous speaker fidgets and tugs on his clothes while speaking. A confident speaker uses her hands to further illustrate a point. Obama used her hands often for emphasis, but rarely lifted them above the lectern. At times this seemed a bit forced, but hey, nobody says she's Bill Clinton, who's considered the master of effective body language. Grade: B

Project your voice. It is almost impossible to be too loud when giving a speech. Do not shout but make sure the person in the very back of the room can hear you easily. Obama had no problems being heard, although she didn't speak in a particularly loud voice. When saying "my daughters are heart of my heart and the center of my world," her voice cracked, but it was an authentic moment and only enhanced the speech. Grade: B+

Make eye contact. Sweep the room and try to make eye contact with everyone in the audience. If people know you are looking at them, they will pay attention. Because of the strength and naturalness of her delivery, Obama had people's attention right away, and kept it for the duration. Grade: A
Keep it brief. Let your audience leave wanting to hear more. The worst critique is an indication that they've heard more than enough. In the case of Obama everyone knew the speech would be relatively long. The doting live audience could have listened for 46 minutes rather than the actual 26 minutes she was onstage. Grade: B
Be direct. Winston Churchill said, "If you have an important point to make, don't try and be subtle or clever. Use a pile driver. Hit the point once. Then come back and hit it again. Then hit it a third time - a tremendous whack." Obama didn't take Winston's advice here. As James Poniewozik of Time noted, Obama's speech, supposed to highlight the President's character and their relationship, instead was a "sly demonstration of criticizing without criticizing, rebutting by implication, slicing and dicing with a smile." An effective strategy. Grade: B+

Final grade: A-. Michelle Obama's DNC speech was a textbook example of great media training in action. But nobody is perfect.
Follow Scott Van Camp: @svancamp01