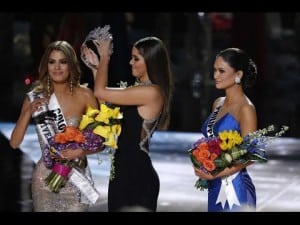 Most likely, it is more work than you'd think to host a beauty pageant. But a pretty weighty part of the job description has to be "read the name of the winner off this card, and don't mess it up." Alas: Steve Harvey, taking a break from his day job of pretending to be shocked by Family Feud contestants' off-color answers, messed it up.
At the end of Sunday night's Miss Universe pageant, Harvey named Ariadna Gutierrez Arevalo, Miss Colombia, the winner, and only after she had received her crown, flowers, hugs and the audience's wild applause for a solid two minutes did he stammer out, "OK, folks, uh—there's—I have to apologize..." Turns out he was supposed to read Gutierrez's name as the first runner-up, and that the winner was in fact Pia Alonzo Wurtzbach, Miss Philippines. Compounding the awkwardness, Gutierrez does not speak English fluently and failed to understand what was happening, and unable to do her part to handle the debacle gracefully, could do nothing but stand there in confusion until the crown was plucked off her head.
So, primary damage done, does Harvey follow crisis PR best practices with a public apology? To his credit, he immediately made it clear that the mistake was entirely his. Later, however, he tweeted that he wanted to "apologize emphatically to Miss Philippians [sic] and Miss Columbia [sic]." The misspellings seemed to disrespect both contestants and their nations, and added more fuel to a fire he was trying to stifle. It was worse than no apology at all. This should drive home the fact that careful writing and editing is crucial to PR communications. Take note: mistakes are going to happen, but when they do, they leave no room for error in your follow-up. 
Are there any winners in this debacle? Well, people are actually talking about the Miss Universe pageant. Beauty pageant viewership was high in the mid-1980s but has been in general decline since. The events of Sunday made for high-octane awkwardness the likes of which we haven't seen on television since the heyday of The Office, and the buzz was so omnipresent that some conspiracy theorists are crying "publicity stunt."  Could Miss Universe be taking a cue from the MTV Video Music Awards and engineering a "memorable moment" that is scripted to seem unscripted?
Follow Ian James Wright: @ianwright0101