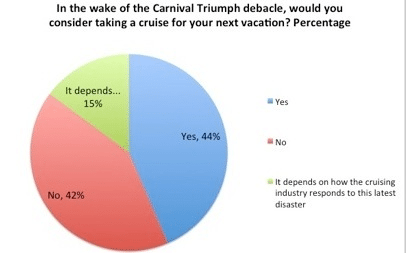 On Feb. 15, Carnival's Triumph ship was towed into Mobile, Alabama after almost a week stuck at sea due to an engine fire. Carnival's legal fight is just starting, and now the onus is on the industry to improve its standing with the public.
More than 4,000 passengers were left on the ship for five days. According to Business Insider, the testimonies from the passengers were truly disgusting: Hallways flooded with human waste, no air conditoning or running water and passengers left to survive on limited food and water.
PR News polled its online audience to see whether the recent disaster at sea bucked their cruising enthusiasm. We garneerd more than 100 responses to the question: In the wake of the Carnival Triumph debacle, would you consider taking a cruise for your next vacation? Forty-four percent of the respondents said they would still consider taking a cruise for their next vacation, while 42% said they wouldn't. However, 15% of the respondents said it depends on how the cruising industry responds to the latest disaster.
Clearly, there must be important responses to come—ones that are formulated not by Carnival itself but by the entire cruise-ship industry. These should be operational solutions focusing on the equipment breakdowns that seem to occur on these cruise ships on a regular basis. When these programs are in place, only then can the industry start to repair its sinking reputation.
Follow Bill Miltenberg: @bmiltenberg