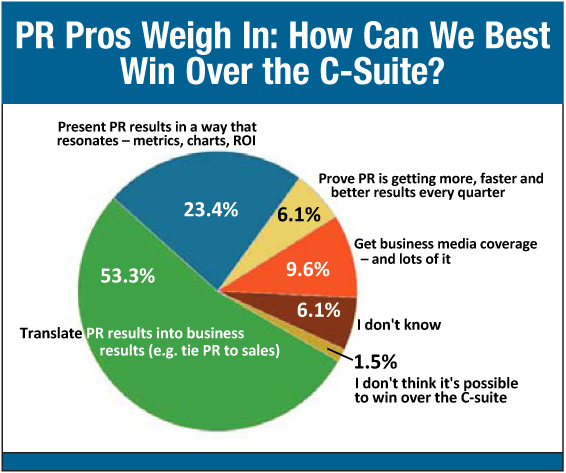 In a May 2011 study by Wallop! OnDemand, the majority of PR pros say "translating PR results into business results" was the way to a C-suite executive's heart. Actually executing on that appears to be the holdup with many communicators. Source: Wallop! OnDemand
While hot-button PR issues have proven through time to go through cooling periods, there is one topic that has percolated consistently: PR measurement. A new study by Wallop! OnDemand throws more wood on the fire. The survey of PR pros finds that PR teams are still struggling to implement measurement, with the main barriers being cost and lack of resources. Nothing Earth-shattering here.
However, there was a rather eye-opening finding in the study that really grabbed our attention: Nearly half of the 200 PR professionals surveyed (44%) admit they aren't certain the C-suite truly understands the value of PR.
C-suite executives may question PR's value either because they were skeptical of PR to begin with, or because the PR team is not clearly communicating accomplishments, says Kristin Jones, CEO of Wallop! OnDemand. "Either way, it is important for PR pros to remember that they have a responsibility to show clients and executives how PR is positively impacting the business," says Jones. Thus PR pros need to start providing executives with meaningful metrics that demonstrate how PR has moved the needle for the company.
METRICS THAT MATTER...
But more than half of the study respondents seem to know this, as 53% indicated "translating PR results into business results" is the best way to make program successes meaningful to executives." (See the chart for the full findings.)
But actually achieving this has proven to be an Achilles' heel. So where to start? Shonali Burke, principal at Shonali Burke Consulting, says that by simply meeting with practice leaders within your organization and finding out what makes their units tick, you can correlate your efforts with theirs. "You have to do this over time, and you have to constantly be watching what's going on so that you can adjust your strategy accordingly," says Burke.
For Evan Welsh, director of global media relations at SAP, knowing exactly what the top brass wants to see is key, and a good part of the metrics involve competitive analysis. "Each quarter we look at how we fare against three key competitors," says Welsh. "The metrics include number of articles and favorability of the coverage, which provide an overall ranking versus our peer group." These metrics, says Welsh, provide great outside-in perspective on external sentiment—who's getting coverage for what.
...THOSE THAT DON'T
Indeed, concentrating on irrelevant metrics can be a dead end for a PR pro. "One of the biggest mistakes people make is trying to measure anything and everything," says Burke. "Identify what is most important for you to measure, and focus on that."
Welsh does have an interesting caveat: Measurement isn't everything. "While it's extremely important, we need to remember that it's one piece of the overall pie and not necessarily the ultimate yardstick," he says. His media coverage numbers can be skewed by one-time news or unique extenuating circumstances.
Some good news from the study? Less than 2% of PR pros feel it's impossible to win over the executives. This is good because it means 98% of them actually do believe the C-suite can be won over by public relations. PRN
CONTACT:
Kristin Jones, kristin@wallopondemand.com; Shonali Burke, sburke@shonaliburke.com; Evan Welsh, evan.welsh@sap.com.