Organizations: Ajinomoto Food Ingredients and the Glutamate Association
Agency: Pollock Communications
Timeframe: November 2010 - March 2011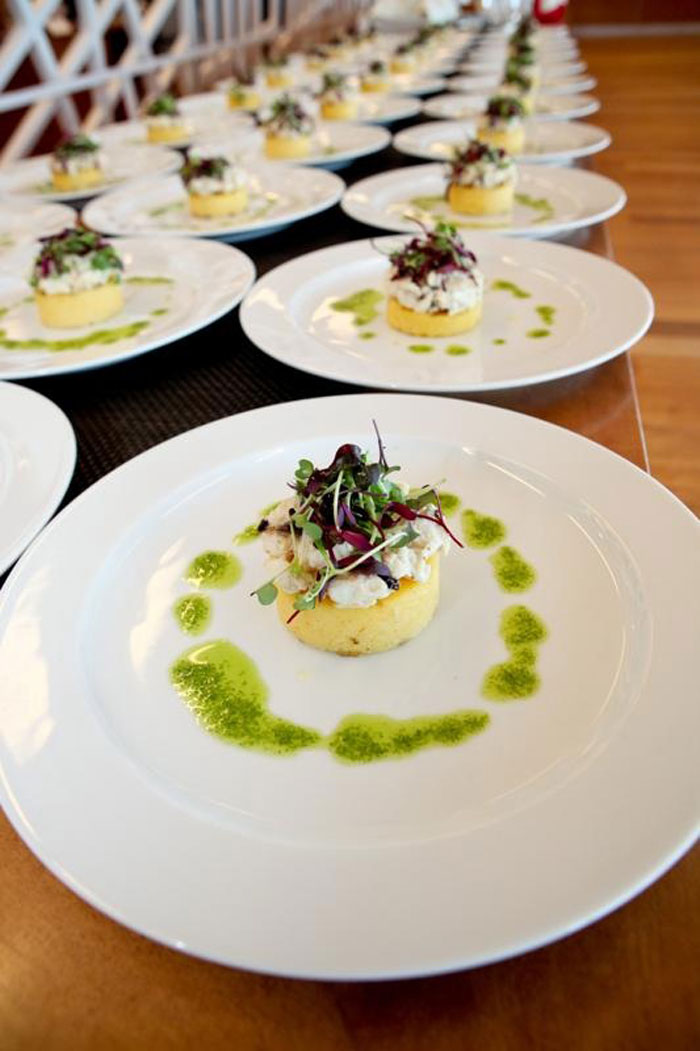 Food Network chef Danny Boome created culinary works of art that wowed attendees at a March 2011 event designed to educate key stakeholders on the safety and value of MSG. Photo courtesy of Pollock Communications
In just the last few years, PR has been called in to clean up numerous crises and repair damaged reputations of more than a few organizations.
In the case of sodium glutamate—also known as monosodium glutamate or MSG—and its reputation, PR has its work cut out for it.
A little MSG background: MSG is a sodium salt of the amino acid glutamic acid that enhances the flavor of certain foods. That enhancement is called "umami." MSG is a key ingredient in the foods of China and Japan and is used commercially worldwide in many types of foods.
MSG became infamous in 1968, when the term "Chinese restaurant syndrome" surfaced. Some people had symptoms of headache, dizziness, burning and tingling sensations and other maladies after eating a Chinese meal. MSG was blamed, and soon signs reading "No MSG" turned up in restaurant windows. From then on in, it's been a tough go for the glutamate.
But research on MSG over the years has shown that in humans (as opposed to rats), the sodium salt is safe. Those symptoms described early could have been caused by allergic reactions. But never mind, the damage had been done. And while MSG is now in many foods and occurs naturally in tomatoes and Parmesan cheese, there is still a stigma attached to cooking with it.
Which is why the Anjinomoto Food Ingredients Company, headquartered in Japan but with offices around the U.S., looked to PR in 2010 to help make the idea of MSG more appetizing to key stakeholders.
Ajinomoto works with Watson/Mulhern, a Washington D.C.-based communications firm that specializes in food, agriculture, nutrition and life sciences clients. In fact, Watson/Mulhern oversees the Glutamate Association, which provides the public with information on MSG. "There's a lot of misunderstanding out there about MSG," says Lisa Watson founding partner of Watson/Mulhern. "If you look at orientation between food and nutrition in the media, adding ingredients to enhance taste is not always portrayed positively."
In the case of MSG, that's putting it lightly. To move the glutamate needle, both Ajinomoto and Watson felt that communicating the science of MSG, while at the same time capturing the taste and nutrition side, would open key stakeholders' eyes on the value that MSG brings to the dining table. Bringing in Pollock Communications, a New York City-based agency specializing in health and wellness, nutrition sciences and consumer outreach, the two teams decided to organize a marquee event that would give influencers a better understanding of MSG and a real taste of how it improves the culinary experience.
SCIENTIFIC FLAVOR
And they had the science. The American Journal of Clinical Nutrition published a September 2009 supplement around the 100th Anniversary Symposium of Umami Discovery, which was held in Tokyo in 2008. Inside were numerous studies on umami and MSG—scientific works that basically validated the glutamate's safety and value to the culinary community. "We wanted to get this science into the hands of influencers," says Marcie Klein, senior VP at Pollock.
So, the event planning began in earnest in fall of 2010, with the objectives as the following:
• Shift nutrition and culinary media and influencer perceptions to neutral and positive regarding the safety of MSG via science.
• Create a sensory and science experience for top influencers, to educate about the science supporting the safety of MSG and excite them about the umami flavor benefit via a luncheon event.
The Pollock team of three—which worked on the event over four months, dedicating about a third of their work hours on the project—thought that the venue should be related to science. They decided on the New York Academy of Sciences, located in a skyscraper in downtown Manhattan (see sidebar on picking a venue). Not only did the site have a distinct scientific cachet, it also has a full kitchen and its own chef—perfect for presenting a potentially delicious unami experience.
APPETIZING INFLUENCERS
The key to success for the event would be inviting the right mix of people. The Pollock team and Watson targeted the following groups:
• Women's magazine food and nutrition editors
• Food bloggers
• Culinary experts
• Registered dietitians
As nutrition science communicators, says Klein, Pollock Comms has long had relationships with registered dietician networks, and those dietitians were key to getting the MSG message across. "Dieticians' opinions on MSG are split, and they are looking for guidance on the topic," says Klein. Why their chasm on the use of MSG? MSG contains about 70% less sodium per teaspoon than table salt, so some are considering it in recipes as a way to restrict sodium intake on their patients. Others can't get past the stigma.
ADDING UMAMI
To take the event beyond science, Pollock reached out to David Kasabian, author of The Fifth Taste: Cooking With Umami, and began the search for a well-known chef to tag-team with Kasabian on the culinary experience. Two key considerations: One, Pollock did not want a typical Asian menu. "Umami is not just about Çhinese food," says Klein. And two, there were budget considerations. "We looked at available celebrity chefs, and we wanted someone well-known but not super-famous," says Klein.
Pollock decided on Danny Boome, a Food Network chef with a show called Rescue Chef. Boome and Kasabian would collaborate on an event menu that included crab polenta, coq au vin and green tea sorbet.
CULINARY EXPERIENCE
On March 8, 2011, Ajinomoto and The Glutamate Association (TGA) co-sponsored "Celebrating 100 Years of Umami: A Science and Sensory Event," at the New York Academy of Sciences. About 35 influencers were on hand for the experience.
Upon reaching the 40th floor at the NYAS, guests were able to take a chicken broth test, which they could differentiate the umami taste versus an alternative ingredient. After the science of MSG was presented by two guest speakers, the attendees sat down for lunch, which was prepared the NYAS staff and hosted by Boome and Kasabian.
"Danny Boome was just terrific," says Watson. His funny and engaging banter during lunch was the perfect foil for the drier scientific presentations earlier. And the energy level was high during the two-hour event, adds Watson, who can't think of another PR element she would have added that afternoon. For Klein, she believes the event objectives were met, but adds that it might have been fun to "ask the guests to tweet or blog from the event."
The results of the effort include:
• Secured attendance of 35 leading influencers in the food and nutrition space, including top-tier media, registered dietitians and chefs who are contributors to a broad range of media outlets, such as USA Today, ABC News, NBC News, Good Morning America, Good Housekeeping, Men's Health, Prevention, The New York Times, Family Circle and www.ivillage.com.
• Started the dialogue about the safety of MSG and the importance of umami as a flavor-enhancing option for consumers, including as a sodium alternative.
• Planted the seed to keep MSG top of mind with consumer media for future coverage.
So, no stories in The New York Times or The Wall Street Journal, but some positive post-event blog posts that generated lively comments. And besides, this was an event to build upon for the future, says Klein. "The client fully understood that this was just the start of a process," she says.
Post-event comments from guests were positive, and that will be enough to possibly stage a similar event in Chicago or Los Angeles in the near future. So Pollock is standing by.
"Our goal was to improve understanding of MSG," says Watson. And if that translates into event-goers defending the use of MSG at a later date, the objectives will have been met, continues Watson.
The bottom line: There's the old saying that Rome wasn't built in a day, and neither can the reputation of MSG be rehabilitated in a day. But with events such as this, at least the construction has begun. PRN
CONTACT:
Marcie Klein, mklein@pollock-pr.com; Lisa Watson, lwatson@watsonmulhern.com; Eliot Hoff, ehoff@apcoworldwide.com.