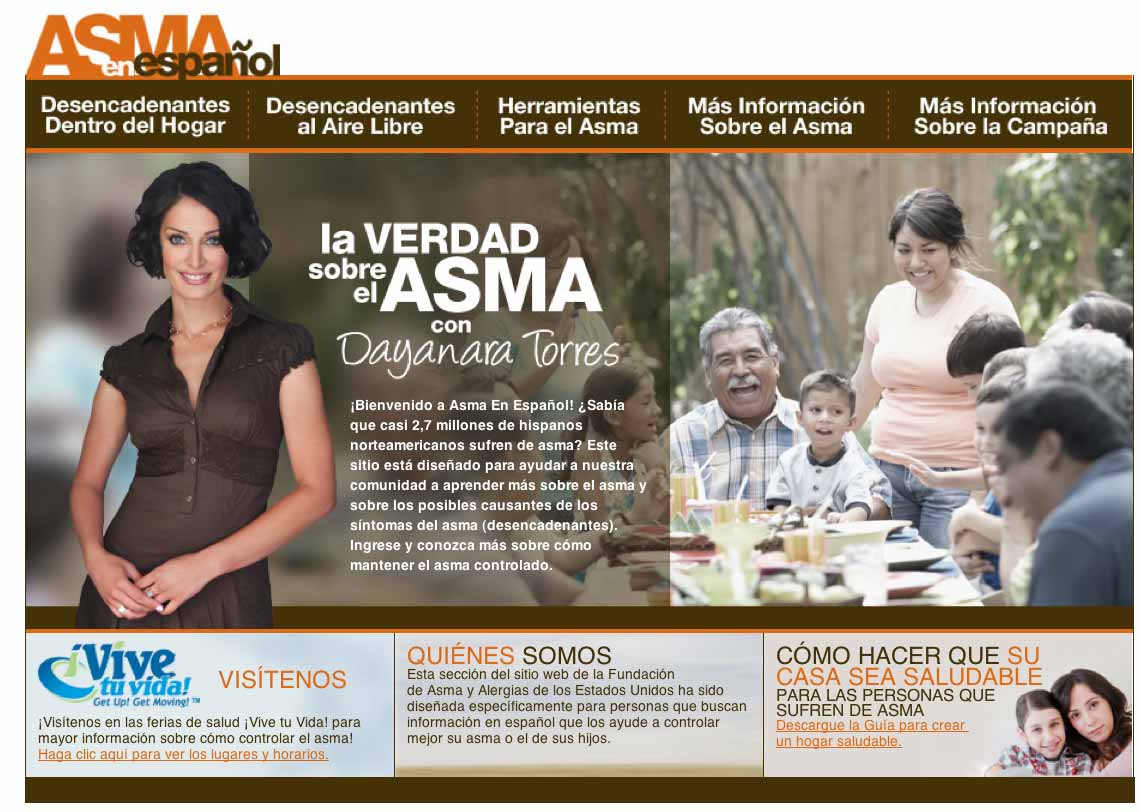 Anchored by celebrity spokesperson Dayanara Torres, the Asma en Español microsite provided visitors with a bevy of bilingual information on asthma, including downloadable tools for use in conversations with doctors. Image courtesy of Hill & Knowlton
Company: Merck
Agency: Hill & Knowlton
Timeframe: Jan. - Dec. 2010
For most, asthma is a relatively well-known disease. The word itself may bring to mind images of inhalers or its short-of-breath sufferers. Yet despite the nearly 3 million Hispanic-Americans who suffer from asthma, a national survey by Merck and the Asthma and Allergy Foundation of America (AAFA) found that levels of disease awareness and control in that community are limited.
In an effort to reduce the uncertainty about asthma triggers and management in the Hispanic community, Merck tapped Hill & Knowlton to lead a research-driven advocacy campaign called Asma en Español, with touch points at both the international and grassroots levels.
HEALTH DISCONNECT
In April 2010, Kelton Research conducted a survey of 202 Hispanic asthmatics and 203 Hispanic caregivers of asthmatic children, and found that a majority of respondents reported having difficulty understanding their doctors; preferred to receive health information in Spanish and online; were unable to identify common asthma triggers; and reported less involvement with loved ones due to asthma. In addition, mothers reported worrying that their children couldn't live normal, active lives. Research from the federal government's Office of Minority Health showed that asthma management is a serious issue in the Hispanic community, with the highest rates among Puerto Rican Americans; that family/community is very important; and that Hispanics prefer to get their health information online.
The combined PR team—five from Hill & Knowlton, two from AAFA and one full-time member from Merck—used the research to design a program with an emphasis on quality of life and asthma control.
Patty Bifulco, a senior VP in Hill & Knowlton's healthcare practice, says the research was illuminating. "It helped guide our messaging and designing of the necessary tools to get information to the community in an accessible and useful way."
Bifulco says the Hispanic-American community is underserved in terms of asthma control education. Thus, the campaign's objectives were two-fold:
• Raise awareness about asthma control and educate sufferers about things which may be triggering their symptoms.
• Encourage Hispanics to engage with their healthcare providers and have a conversation about their asthma—how they may be able to better control it and to better understand what their specific triggers are. "We wanted to create a new opportunity for patients and their healthcare providers to have these open lines of communication," says Bifulco.
After seven months of planning, the team held a multi-tiered national launch in July 2010 focusing on three core messages:
1. Nearly 3 million Hispanic patients, including 500,000 children, suffer from asthma, so providing more resources in Spanish will improve asthma management in this community.
2. Understanding what causes asthma can help lead to better asthma control.
3. In addition to speaking with a doctor, patients and caregivers can visit AsmaEnEspañol.com to learn more about asthma and get free, downloadable asthma tools.
Grassroots outreach was critical to the success of Merck's Asma en Español campaign. In summer/fall 2010, the campaign's presence at health fairs spanning four top U.S. Hispanic markets moved the needle of its microsite upward. Source: Hill & Knowlton
DIGITAL EDUCATION
The AsmaEnEspañol.com microsite, hosted on AAFA's new Spanish Web site, would inform visitors about asthma triggers, disseminate other helpful information and provide tools for patients to use when speaking with their doctors, including an "asthma-healthy home" brochure (see sidebar on brochures with bite); a document to record asthma history; questions to ask the doctor; and an asthma self-management action plan. Tara Camp, director of global product communications at Merck, says the site was the perfect way to put an evergreen resource at the fingertips of people they couldn't reach through local outreach alone.
CELEBRITY SECURED
The team secured former Miss Universe and author Dayanara Torres as the face and voice of the campaign. An asthma sufferer herself and the mother of a child with asthma, Torres was an ideal, personally invested spokesperson for the campaign. "She was extremely engaged and was eager to talk to whomever she could to get the message out because she had such an intimate connection to our cause," says Bifulco.
Bilingual opinion leader and AAFA spokesperson Dr. Jaime Alvarez served as the campaign's medical authority and delivered an authoritative level of credibility as a campaign representative. Together, Torres and Alvarez engaged with national and local Spanish-language media to inform patients and drive them to the site during both satellite and radio media tours. The PR team also distributed Spanish and English news releases, a consumer-friendly matte release—a pre-formatted news article for smaller newspapers hungry for content and short on resources—and performed outreach to top-tier Hispanic morning shows and national publications.
COMMUNAL COMMUNICATION
To further disseminate messages and asthma tools, the team conducted media outreach in conjunction with community level health fairs in four major Hispanic markets—New York, Dallas, San Diego and Los Angeles—from August through October.
If given a second chance on the campaign, Camp says she wishes the team could have launched even more grassroots and local efforts. "We did a lot of local outreach, considering the scope of the project and the budget we had," says Camp. "But going out to more community health fairs—which could have been an entire campaign in and of itself—would've been great because it's an important PR aspect and gave us a sense of what we're really working toward."
Campaign results:
Objective 1— Raise awareness:
• 70 million+ media impressions in influential Hispanic media, which included at least one campaign message;
• Full-page article in People en Españo l;
• Interviews on highly rated national Spanish morning shows Despierta, America!, Al Rojo Vivo and Todo Bebe;
• Stories on AOL Salud and PeopleEnEspañol.com; and
• Distributed campaign materials to nearly 40% of health fair attendees.
Objective 2— Drive Hispanic patients to engage their physicians in conversations about asthma:
• 8,300+ unique visitors accessed AsmaEnEspañol.com (see chart for more details).
• 1,969 visitors accessed the site within 30 days after launch, with nearly 8,700 downloads of patient tools, including 264 downloads of "Questions to Ask Your Doctor."
For Bifulco, the most difficult—but also the most important—aspect of the campaign was understanding the audience. "Getting the insights to help drive the programming is how you'll be able to move the needle," says Bifulco. "For us, starting with a strong research base enabled us to create the tools and resources that our target was looking for, and place them where they were looking."
While the partnership with Torres and Dr. Alvarez has ended, the AsmaEnEspanol microsite is still live on the AAFA site and offers downloadable materials. As part of Merck's ongoing commitment to disease education in the areas of asthma and respiratory diseases, the company is always looking for opportunities to engage, educate and inspire underserved patients to connect with health care providers. This will hopefully allow all those afflicted to breathe a sigh of relief. PRN
CONTACT:
Patty Bifulco, Patricia.Bifulco@hillandknowlton.com; Tara Camp, tara_camp@merck.com; Jeff Herberger, jherberger@traverscollins.com.