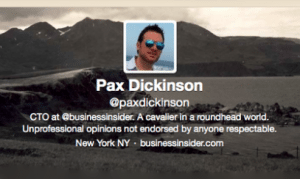 This week, Business Insider fired its "brogrammer" CTO, Pax Dickinson, after media outlets shed light on his repeated racist, sexist and homophobic tweets. But why did it take a public outcry for the publication to let him go? Dickinson's been spewing hateful language since way back in 2010. As Slate points out, Dickinson's vile Twitter stream was no secret at Business Insider: Nicholas Carlson, its chief correspondent, admitted to blocking him on the platform. Further, if someone from the Business Insider PR team was not monitoring its executives on social media, there's some serious neglect going on over there.
Perhaps the publication allowed him to tweet on as a brand ambassador (his Business Insider position was listed on his Twitter profile, and he included his handle in his email signature) as a nod to the First Amendment. Henry Blodget, the founder, editor and CEO of Business Insider, lent credence to this theory with his initial reaction to articles about Dickson's tweets: "Pax was speaking for himself, not Business Insider. We obviously don't condone what he said," Blodget responded to Valleywag.
If this is the case, Business Insider should explain itself. The short statement it offered on its website, which doesn't even name Dickinson, is simply not enough to explain this oversight.
Follow Lucia Davis: @LKCDavis.