Winner: Singer Associates Public Affairs/Public Relations - The $70 Million Press Conference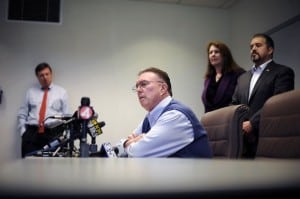 On Sept. 9, 2010, the city of San Bruno, Calif., was rocked by the worst natural gas explosion and fire in our nation's history. The catastrophe killed eight residents, hurt 52 others, destroyed 38 homes and damaged another 70 residences. In a scathing critique, federal investigators from the National Safety Transportation Board blamed utility provider Pacific Gas & Electric Co. for mistakes that led to a gas pipeline explosion.
In 2011, the city of San Bruno entered into negotiations with PG&E to seek restitution for the damages to their city and community. In 2012, after more than a year of negotiations, PG&E walked away from the negotiating table, leaving San Bruno with the possibility that the city would receive nothing from the utility company that had blown a hole in the center of its city.
In early 2012, Singer Associates was hired to assist the city, its attorneys and consultants to develop strategy and communications plan that would ultimately bring PG&E back to the table and provide $70 million in restitution. Singer Associates' objective was to help San Bruno tell its gut-wrenching story of devastation to build political, emotional, social and media support to pressure PG&E to come back and provide restitution.
The main vehicle to tell the city's story would be a press conference with San Bruno Mayor Jim Ruane and members of the San Bruno City Council, and the issuing of a press release that called upon PG&E to return to the negotiating table.
The Feb. 15, 2012 press conference was attended by every major daily newspaper, radio and televisions station in the San Francisco Bay Area. In addition, The Wall Street Journal, Associated Press and other major national media covered the press conference and news release. Within one month of the press conference, PG&E agreed to pay $70 million to the City of San Bruno for compensation and restitution for the damage. —Scott Van Camp

Honorable Mentions:
• America's Wetland Foundation - Blue Ribbon Resilient Communities: Envisioning the Future of America's Energy Coast
• Brunet-García Advertising & PR - ONE by ONE campaign
• International Council of Shopping Centers with Finn Partners - Campaign for 21st Century Retail
• The Johnson Foundation at Wingspread and Outreach Strategies - Financing Sustainable Water Infrastructure