Winner: United Nations Foundation – Global Reach Report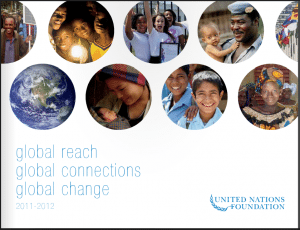 With the goal of clearly informing and engaging current and prospective supporters and partners about its work in 2012, the United Nations Foundation Global Reach Report concentrated on 10-plus specific issue-based campaigns that fell within four areas: global health; women and population; energy and climate; and supporting the United Nations.
The challenge: striking a balance in the report between providing updates on the breadth of its work and presenting a compelling narrative that resonated with readers. To meet that challenge, the communications team focused on keeping text brief and crisp, presenting a wealth of easy-to-understand statistics within powerful graphics and employing exciting visuals to better tell the UN's story.
The report was summarized in an infographic sent to supporters with a link to the finished product and posted to the Foundation's website. Hard copies were distributed to UN staff and partners, and are used at events and meetings.
As a result, hundreds of people have visited the report webpage, while reader feedback has demonstrated a much higher level of engagement than previous reports. —Scott Van Camp
Honorable Mentions:
• ASCD - 2011 Annual Report
• Broadhead + Company - Progressive Agriculture Foundation 2011 Annual Report
• Counterpart International Inc. - Annual Report: Building Trust, Building Partnerships
• National Association of Insurance Commissioners - NAIC 2011 Online Report: "The Home of U.S. Insurance Regulation"