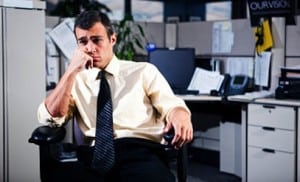 Maintaining a satisfactory work environment is not only an ethical and economic imperative, but also a way to help craft a quality external image.
24/7 Wall St. recently released its list of America's worst companies to work for and identified nine exceptionally bad corporate work environments. To narrow it down, 24/7 Wall St. extracted employee reviews from publicly traded companies on Glassdoor.com. Here is the list in order of bad to worst:
9. Fiserv
8. NCR
7. Sears Holdings
6. ADT
5. Radio Shack
4. Dollar General
3. Dillard's
2. Express Scripts
1. DISH
While many employees complained of subpar wages, there were five other common complaints that communicators should be aware of if they want to keep their companies off this list. Remember, it's essential to exercise effective internal communications and maintain a thoughtful employee relations program in order to keep your staff happy and productive. After all, they are the ones who drive the bottom line.
1. Uniformity is important. Large conglomerates sometimes lack a cohesive bond, which makes team building more difficult. No matter how large your company is, your employees should feel they are part of one community, even if there are several locations, divisions or subsidiaries.
2. Effective leadership is everything. Many employees on Glassdoor.com complained about either a lack of leadership or micromanagement. Good leadership promotes a productive work environment and positive morale. If your employees are unhappy, or if turnover is high, look no further than management to remedy the problem.
3. Set realistic goals. It is imperative that managers and directors recognize the strengths and limitations of the teams they lead. That means that leaders must set goals based on their teams' abilities, rather than their own personal objectives. Some of the companies on this list got there because they asked too much of their employees, without providing the tools or incentives to reach those goals.
4. Maintain a strong identity. Sears is an example of how not to maintain a strong identity. The company's direction has been unfocused for some time, which has created many uncertainties for its employees. If you present a weak image, your employees will have weak feelings about working for you. In other words, give them reasons to be proud to be a part of the organization.
5. Work-life balance makes a difference. Relaxation goes a long way towards enhancing productivity and keeping your employees happy. Long, exhaustive hours can wear down your employees (physically and mentally), which can kill morale and result in shoddy work.
Follow Caysey Welton: @CayseyW