Winner: United Nations Foundation - #RioPlusSocial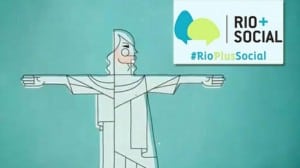 Following the success of the annual Social Good Summit held in New York City during the high-level sessions of the UN General Assembly, the United Nations Foundation wanted to create a similar model and discussion around the 2012 United Nations Conference on Sustainable Development, also known as Rio+20.
A key pillar to The United Nations Foundations' overall strategy was working with Twitter to create a promoted tweet campaign and amplifying messaging to millions engaged online talking about global solutions around Rio+20.
An event-specific account (@RioPlusSocial) was created to directly engage with event attendees in both English and Portuguese to avoid overloading the @unfoundation followers due to the volume of tweets or the multilingual nature of the conversation. The dialogue was extended across all UN Foundation campaigns. The team used promoted accounts to grow the follower base of both @unfoundation and @RioPlusSocial in order to maximize the organic reach and engagement with Rio+Social messaging. The Promoted Tweets were designed to drive engagement by soliciting questions from followers, prompting retweets and encouraging @UNFoundation mentions.
The event was widely praised as successful in both the development community and in the media. Due to the success of the Twitter campaign as one of the first nonprofit organizations to tap the power of a Twitter Promoted Campaign, Twitter used the UN Foundation as a case study for success.
On the day of the conference, #RioPlusSocial was mentioned more than 23,000 times. It trended #1 in Rio, Washington and New York City as well as across the United States and Brazil. —Bill Miltenberg
Honorable Mentions:
· Booz Allen Hamilton - Saluting Our Veterans
· New Media Strategies - ACCCE "Click-to-Call" Grassroots Advocacy
· Raytheon – Hashtags for Heroes