Winner: SELF Magazine - SELF Workout in the Park Social Game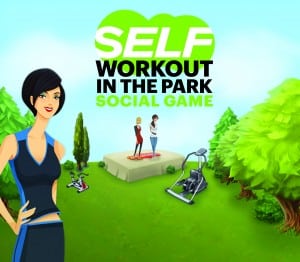 SELF Workout in the Park is a multi-faceted event for the women's magazine brand that is celebrating its 20th anniversary this year. Within the last 12 months the publication has been able to extend the fitness event digitally, socially and through mobile channels, thanks to SELF Workout in the Park Social Game. The social game, which weds working out to the social Web, launched in March 2012 at the 2012 Games Developers Conference.
A month later it was introduced on Facebook, with a companion website and fan page that linked to the Workout in the Park live events series during May and June in New York, Chicago and San Francisco.
One of the most notable aspects of the launch was incorporating opportunities for consumers to register and play the game live on-site at the Workout in the Park events; models were cast to play the roles of in-game avatars that serve as life coaches and hosts of the game.
Indeed, in-game features enable players to create and customize their own fitness park. Features also include fitness challenges for the player's avatar and ongoing updates tied to real-life events.
Investing in the gaming platform has paid off for SELF. In just two months the game sparked more than 25,000 downloads and delivered an average of 14-plus minutes spent by active users per session, along with more than 200 million media impressions. —Matthew Schwartz
Honorable Mentions:
· Devils Arena Entertainment – New Jersey Devils Doodle Contest
· Neiman – #Tweettoshoot