Winner: CarMD.com Corp. - CarlMD Facebook Fans & Friends Contest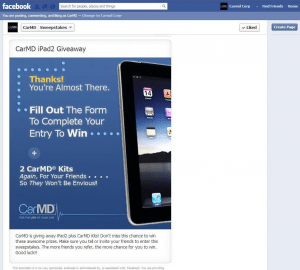 Automotive diagnostic tool company CarMD wanted to double its Facebook page fan base and expose the CarMD brand to more consumers within a brief, month-long period. To reach that goal, the CarMD marketing team launched a sweepstakes on Facebook that offered as a prize an Apple iPad2 plus two CarMD Vehicle Health System products. CarMD encouraged more entries by stating that it would double the prize (i.e., two iPads) 8,000 fans entered before the contest ended. The company further pushed "shares" by stating that it would offer a "bonus entry for every one of your friends who enters after you."
CarMD promoted the contest via its Facebook wall on a daily basis while engaging and answering questions about its product. Banner ads were placed on its YouTube and Blog sites, and an blast email was sent to current customers to announce the contest and encourage sharing and participation.
The contest hit its 8,000 Facebook fan goal within eight days. By the time the contest finished, CarMD had 12,835 fans—a 206% increase in fan base. —Steve Goldstein
Honorable Mention:
Strategic America - West Glen Town Center