Winner: Walmart Green Room: Creating a Sustainable Conversation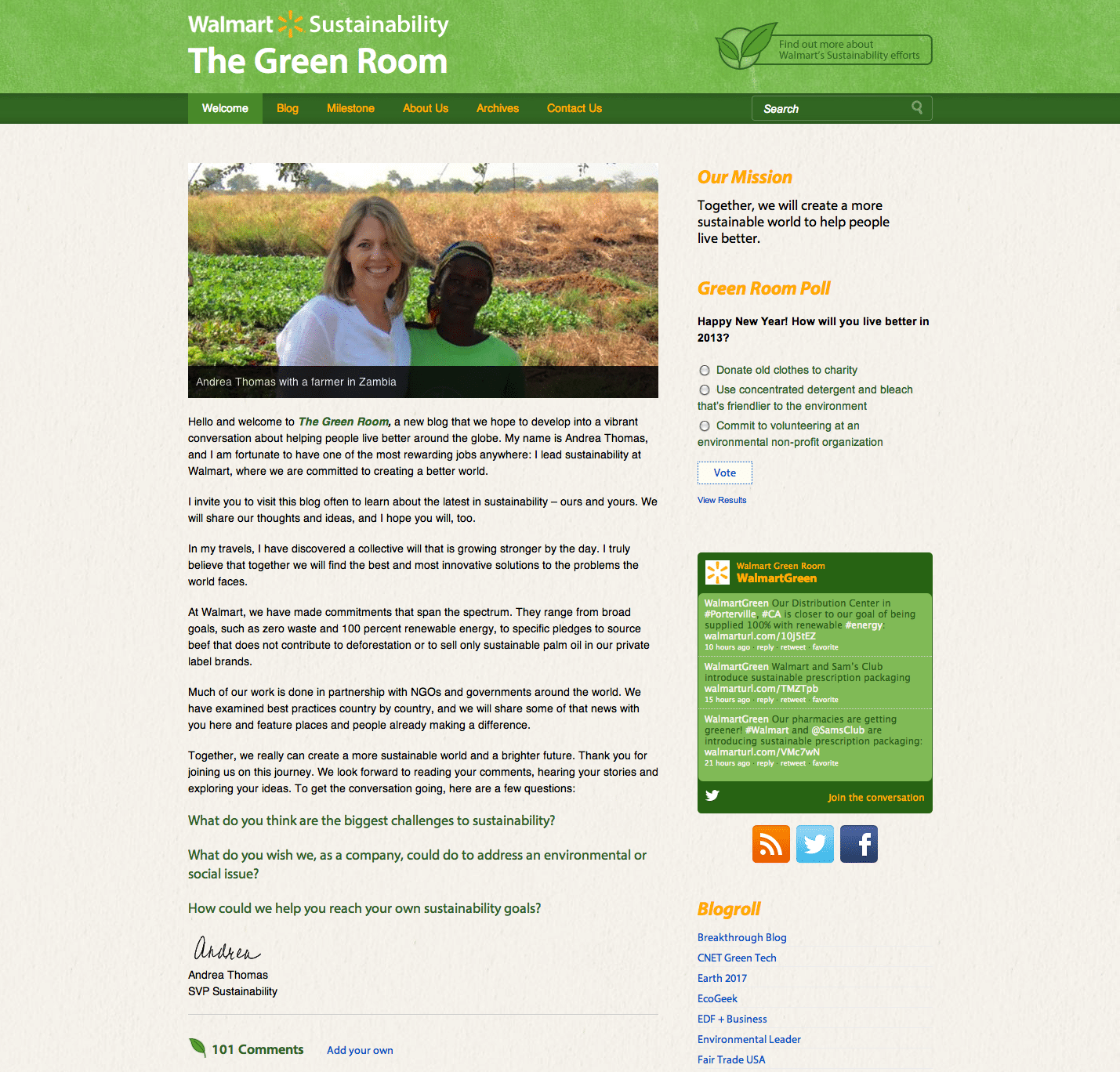 After Walmart's sustainability goals were announced in 2005 claims of "greenwashing" emerged. The retail giant had to address the claims and at the same time demonstrate its progress and commitment to finding environmental solutions. Walmart proceeded to conduct a thorough analysis about target audiences' attitudes toward environment issues and, more specifically, Walmart's progress on achieving the goals it set out in 2005.
It also worked with Converseon to identify the most influential online voices in the sustainability space and develop a plan to cultivate relationships with them. PR agency Ketchum helped to execute the overall campaign strategy.
The various efforts culminated in the January 2012 rollout of The Walmart Green Room (WGR), a corporate blog that would help consumers learn how they could weave sustainability into their daily lives. The Green Room features environmental-related content and a wide range of information about Walmart's stake in sustainability, such as plugging National Bike Month and Memorial Day fuel-efficient driving tips.
The blog also mined news for proactive stories, including Bill Clinton praising Walmart's sustainability efforts during an appearance on "The Daily Show with Jon Stewart." Since launching in January, WGR has garnered 164,254 unique visitors and 268,807 page views.
With 107 posts by 55 different (13 outside of Walmart), traffic has surged 614%. Traffic got a serious spike from online coverage by major media outlets, including Andy Revkin's "Dot Earth" blog on The New York Times, which helped to raise attention from reliable sustainability influencers. —Matthew Schwartz
Honorable Mentions:
Disney Post - The Official Blog of The Walt Disney Company

Mullen - GMBeyondNow General Motors Environmental Blog

RF|Binder for CVS Caremark - CVS Caremark All Kids Can Blog