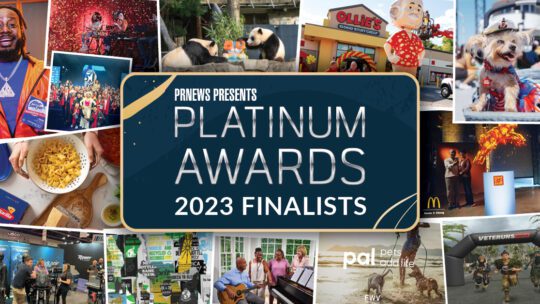 The PRNEWS team has announced the 2023 Platinum Awards finalists.
Join us as we celebrate the industry's top PR and communication campaigns and teams during a gala in New York on October 18.
Campaign entries were judged on their objectives, performance and their "X" factor.
"The Platinum Awards recognize the most innovative teams and campaigns in public relations and communications," said Erika Bradbury, Editorial Director at PRNEWS. "This year's finalists recognize the best results-driven campaigns and initiatives, which not only recognizes the depth and breadth of the industry, but that also demonstrate the importance of communications on all other industries."
Additionally this year, PRNEWS will recognize Platinum "Grand Prix" Awards.
Finalist campaigns are: #KeepTheGrey; Pride Proud, Reinventing an Iconic Travel Brand: Priceline Takes Travelers to Their Happy Price; King's Hawaiian Helps Consumers "Roll Home in Style;" Spotlight Dorado: McDonald's Empowers Latino Filmmakers; and The Coca-Cola Company Presents Recycled Records: A Sonic Exploration of Recycling and Re-Use.
Finalists in all categories are listed at the event site.
Winners will be announced at the October gala.
Congratulations to all!