Winner: Jiffy Lube International and Cone Inc. - 2010 Jiffy Lube Maintenance Partners for Life Campaign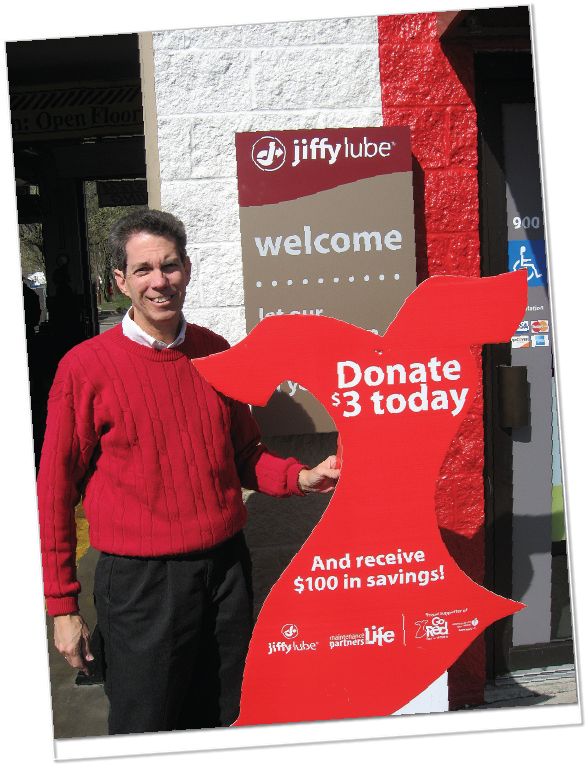 How do you build on the momentum of an already successful campaign? Jiffy Lube set the bar high and exceeded expectations with the 2010 incarnation of its Maintenance Partners for Life campaign. The effort lifts awareness of heart health and raises funds for the American Heart Association's Go Red for Women initiative by asking Jiffy Lube customers to donate $3 to the movement. In appreciation for their donations, customers received a coupon book with $100 worth of JL services. The 2010 campaign, which for the first time accepted online donations, saw participation from more than 87% of its franchisees, and garnered more than 174 million media impressions.
Also among the objectives: building pride in the Jiffy Lube brand. The campaign tied in heart care and vehicle care in creative ways, and included heavy promotion in the media and online via blogging and social media including Facebook. In 2010, for the first time Jiffy Lube offered consumers the option to donate online. —Cathy Olson
Honorable Mentions:
City of Austin, Small Business Development Program - Meet the Lender: A Business Loan Information Fair
To bring banks, nonprofit lenders, small businesses and the city of Austin together to improve the business' access to capital, the SBDP orchestrated an event involving all parties and publicized it by mailing 10,000 eye-catching postcards and placing ads across local media. Despite economic conditions, the 2010 event saw a record 575 attendees and 9% of respondents said they would recommend the event.
The Marcus Group Inc. - Restoring Gilda's Club NNJ Campaign
To reinvigorate Gilda's Club, which provides social and emotional support for people living with cancer to 12 counties in New York and New Jersey, The Marcus Group oversaw the hiring of a new leader for the organization, "green" reconstruction of the club house with a dedication ceremony and several key fundraising events. TMG's pro bono work brought the Club back from near extinction, with efforts raising more than $375,000 to date.
Nyhus Communications on behalf of American Express and the National Trust for Historic Preservation - Partners in Preservation: Saving Seattle Landmarks
In order to pump up the volume on AmEx and the National Trust for Historic Preservation's joint $1 million restoration project and complementary online initiative, Nyhus helped orchestrate a festive launch event that featured reps from the 25 sites vying for grants and Seattle's mayor. The event garnered media coverage that continues as the campaign unfolds.
Zeno Group on behalf of American Urological Association Foundation & NFL - Know Your Stats about Prostate Cancer
In its bid to generate awareness of prostate cancer, increase acceptance of baseline PSA testing at age 40 and drive more traffic to its informational website, Zeno Group and the American Urological Association (AUA) turned to the toughest advocates around: The men of the NFL. Thirty-two players, including former stars Marcus Allen and Tony Dorsett, helped attract major media coverage around their PSAs and key events. Website traffic increased 500% during Super Bowl weekend.