Leslie Gaines-Ross, Chief Reputation Strategist, Weber Shandwick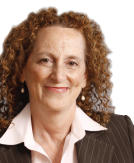 Maintaining a corporate reputation in today's networked world brings many different challenges than existed five years—let alone a generation—ago. The rise and the constant innovation of a connected global consumership ensure that.
As an expert in reputation management, Dr. Leslie Gaines-Ross consults across practices and specialties to make sure that her organization, its clients and others in PR understand what type of and how much polish they can use to enhance their image. She also seeks to limit reputation damage in the first place.
"Reputation is a company's most valuable asset, the world over," she says. "In the new age of hyper-connectivity and information overload, leaders must protect and defend their reputations from misinformation, rumor, hearsay and innuendo. A good reputation pays while a bad reputation costs."
In 2008 Gaines-Ross published her second book, Corporate Reputation: 12 Steps to Safeguarding and Recovering Reputation, which ranked among a year-end best-business-book list and received extensive media coverage. She also spearheaded a survey on online reputation management to decipher the nascent risks that have developed in the recent transformation to an online-prevalent media environment.
Growing Communication
Hired three years ago to form Weber Shandwick's reputation management practice, Gaines-Ross has not only launched groundbreaking initiatives, but has done so with minimal financing. Five of her major initiatives have been developed with internal resources. One of these initiatives, The Rising CCO study, which has identified the growing importance of communication officers, has transformed into a Weber Shandwick proprietary offering to assist corporate leaders in addressing their communications approach.
Needless to say, Gaines-Ross' own reputation is sparkling. Named one of the "100 Most Influential People in Business Ethics" for the past two years by Ethisphere Magazine, and a PR News Educator/Research PR People Award winner in 2008, Gaines-Ross relies on a strong passion for her field to drive her to new heights. Two of her passionate pursuits, the Web site www.reputationrx.com and the blog www.reputationxchange.com, have continued to bolster her image. She will continue to practice what she considers the most sage of advice: "Be nice to the people above and below you." â– 
Honorable Mentions
Robert Chandler, Principal, Chandler Chicco Agency
Focusing on an international perspective, Robert Chandler led his agency to unprecedented growth abroad, strong diversification and 100% client retention. While the global recession led to slower business and job losses in all corners of the world, Chandler Chicco was rewarded with strong client loyalty, increased budgets and an uptick in projects—a testament to Chandler's passionate leadership and vision of true collaboration.
Ed James, President, Cornerstone Public Relations
Consistently at the vanguard of public relations practices, Ed James spearheaded the Smirnoff Signature Mix Series, a hip-hop-flavored campaign featuring classic songs mixed with new artists' interpretations of them. Every key market hosted its own Signature Mix event, and radio stations and deejays around the country received special-edition albums containing the new and remastered songs. This unique campaign exceeded client expectations.
Douglas Spong, President, Carmichael Lynch Spong
Known for his transparency as a top executive, Douglas Spong encourages collaboration and teamwork while maintaining the professionalism of a seasoned veteran. Recently, Spong took on the additional responsibility as president of Carmichael Lynch and was tasked with fostering collaboration among all disciplines of advertising, PR, digital communications, brand marketing and consumer engagement, effectually creating that rare, holistic agency that operates without boundaries.