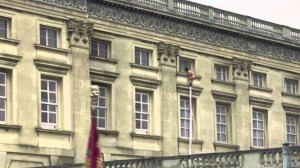 "Drop what you're doing and make a viral video by COB today!"
How many of you have heard a version of that request from on high—in the last month?
Perhaps that specific request is a bit extreme, but then any mandate to produce a viral video by any deadline can be considered extreme.
You'll hear some digital media experts say that the power to make a video go viral rests with the viewers and sharers, not with the makers. Try using that excuse the next time you're asked by the boss why you haven't produced any viral videos for your brand or for your clients and see where that gets you.
To bring some serenity to your working life, PR News analyzed a recent video that passes the viral test, which we determined today to mean any video that got more than a million views on YouTube in fewer than four days. Just our luck: E's "Crazy Buckingham Palace naked man video!!!" fits the bill.
On Friday, Feb. 27., a video with this title was published on YouTube, purportedly posted by a tourist in London. The video shows a naked man rappelling down the face of the palace from the room of some presumably married member of the British royal family. The media was not really convinced of the authenticity of the video or of the tourists witnessing the escapade, but that didn't prevent the U.K.'s Daily Mail, Cosmopolitan, New York's Daily News and others from covering it and wondering about its provenance.
On March 3—and 1.2 million YouTube views later—E! took credit for the video, which is actually a promo for its new fictional series "The Royals."
Here is how you, the besieged brand communicator, can duplicate the success of E!'s video:
1. Create a title for your video that in itself is worth sharing. The key words in the title of E!'s video are "naked" and "video." "Crazy" is also eye-catching. You might have trouble finding ways to slip "Buckingham Palace" into your video title, but the other three should be no stretch.
2. Keep the video to under a minute in length. E!s video runs for 43 seconds, and even at that length it wears thin quickly.
3. Use nudity in long shots, not closeups. The naked man escaping from the palace is shot from a distance, making the video safe for work, since co-workers can't really see what's going on unless they're sharing your office chair. Undoubtedly this had an effect on the number of views during working hours.
4. End with a pratfall. Near the end of the video, the man in question drops comically from a great distance. Pratfalls worked for Keaton and Chaplin, and they can work for you.
Follow Steve Goldstein: @SGoldsteinAI