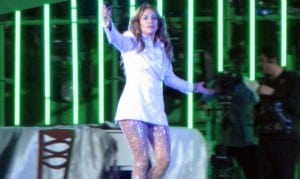 On Saturday, June 29, Jennifer Lopez sang "Happy Birthday" to Turkmenistan's president, Gurbanguly M. Berdimuhamedov, at a concert in Avaza, Turkmenistan. Today, there's PR hell to pay, as fans and media wonder why JLo would serenade a dictator.
At first glance, this seems like a simple case of terrible—or no—vetting. The human rights issues in Turkmenistan are a simple Google search away. Lopez's publicist insisted the event had been vetted in a statement on July 1, adding, "Had there been knowledge of human rights issues any kind, Jennifer would not have attended."
You can't help but wonder if, at this stage in her superstardom, Lopez is willing to listen to a PR team, or if a PR team has access (or the courage) to challenge a business decision. Happy Birthday-gate occurred at a China National Petroleum Company event, for which Lopez likely collected upwards of $1 million to perform. In fact, she has a history of being paid more than six figures for private events like this: Lopez has also performed at the wedding of a Uzbek businessman in Ukraine, reportedly for $1 million, and for the Azeri magnate Telman Ismailov, reportedly for $1.4 million. In addition, she doesn't pay too much attention to politics, according to The Guardian, which reported that before two performances in Russia, Lopez refused to expand upon the human rights situation with fans during a phone-in, saying, "I don't like to talk politics, to be quite honest."
It's quite possible that someone on Lopez's team had researched the record of human rights in Turkmenistan, but wasn't able (or willing) to raise a red flag. Or a red flag was raised by the PR team, and someone else disregarded that red flag. In any case, when dealing with a powerful ego or an omnipotent figure at the center of an organization, PR professionals may heed the instinct to protect their position within that organization—at the risk of their own professional reputation.
Follow Lucia Davis: @LKCDavis.