On Tuesday, communicators got a case study on how not to rehabilitate one's image, compliments of Donald Sterling's bizarre interview with CNN's Anderson Cooper. Now, via The Weather Channel, we offer PR pros another key lesson: how not to respond to complaints on Twitter.
The lesson stems from an exchange between Fort Worth City Council member Joel Burns and The Weather Channel.
On Twitter, Burns pointed out that The Weather Channel's app used pictures of Dallas for Fort Worth. The response from the social media team should make most PR pros wince.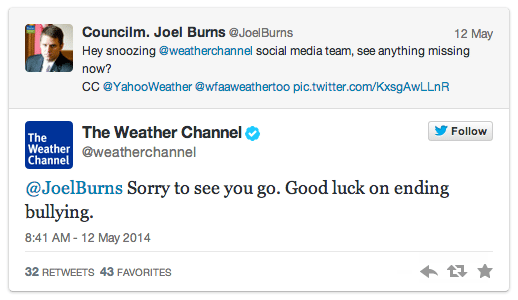 But Burns was unflappable, reinforcing his original message (he also retweeted The Weather Channel's initial response).
The Weather Channel later apologized. "It was not our intention to offend and we are sorry that we did," read the apology, which ran on Dallas News' The Scoop blog. "We have since apologized to Councilman Burns and want to restate that sincere apology and assure him that this tweet does not represent our views."
As social channels evolve, brands and organizations need to convince their employees that responding to complaints on social platforms with sarcasm is not only bad form but a no-win situation. Ditto for snarky retorts, which fail to translate online.
In fairness, Burns could have started off his salutation to The Weather Channel with something other than  "Hey snoozing @weatherchannel social media team…" Human nature being what it is, when you think that someone is belittling you (or your brand) the inherent response is to respond in kind.
But in social media settings, you have to take a step back and assess the situation. Anything you communicate online is a reflection on your company, culture and, perhaps most important, customer relations (and lives in perpetuity). Better to take the high road. Don't let what, more often than not, is small-bore turn into a full-blown PR crisis.
Follow Matthew Schwartz on Twitter: @mpsjourno1