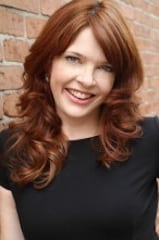 Kathleen Henson
Some say that people and events come into your life for a reason, but how many of us actually have our eyes open when it happens? 2012 marks my 20th year working in PR. I had no idea back in the early '90s that I'd be the owner of a thriving agency in Chicago today. I often joke that we're the "accidental agency" to those who ask me if I had planned this all along. I actually created my firm 10 years ago because nothing like Henson Consulting existed when I needed to focus on being a mom and a public relations professional at the same time.
Hitting this career milestone, I reflect back on how it all started and the people who helped get me where I am today. When I look back, I can now see that many of the people who were influential in my career held skills or knowledge that I both admired and needed to be successful: confidence, strategic thinking, creativity and wisdom, to name a few traits. Here are a few examples of people I've met along the way and how they shaped my career…and the clues for how you can identify these people in your life.
Going all the way back to my junior year at Purdue University, I remember my first life-changing interaction with a pivotal person in my career. Hill & Knowlton Chicago's Wendy Levi came to speak on campus, to share her experiences as a recent grad and basically help us clueless students see that it was possible to have a fulfilling career after we graduated. Wendy was everything I wanted to be one day—smart, confident, articulate—and (OK, I'll admit it) fashionable. It was also apparent she absolutely loved her job and this mysterious career of PR sounded absolutely fascinating to me. Convincing news outlets to run a story about your clients? Working with high-profile figures? Creating unique events and travel? I was hooked. This random interaction would set my career in motion.
Lucky for me, Wendy took an interest in this eager Boilermaker. She helped get an informational interview with her boss back in Chicago. The summer after I graduated, she instructed me on how to write my very first pitch letter to help me land interviews (I got 10!) and she proudly watched me as I wouldn't take no for an answer and urged the GM of Hill & Knowlton's Chicago office to give me a shot. I wanted to work where the talented Wendy Levi worked. I landed the job as an AAE at the city's top consumer firm at the time.
Another person who guided the pathway for my future was my first boss at H&K—Janet Cabot—one of the smartest women I know in the business. Today, she's executive VP and managing director of US Food & Nutrition Practice at Edelman Worldwide. But back then at H&K, she was the Vice President that ran a number of big consumer accounts including Kraft Foods—which spurred my ongoing interest in consumer marketing and branding. I knew right away from observing her that Janet was a great PR practitioner, enormously strategic and certainly creative—all things I admired and aspired to learn and be someday. She thought boldly in brainstorms, was confident with her client counsel and calm under pressure. She also had an impeccable sense of style wearing Hermes scarves and Ferragamo shoes to work each day (again with the fashion!) For some reason, she took me under her wing and always was there to offer me career advice—even well after I left my first job to pursue a stint in corporate PR. She continues to be one of my most valued mentors and a sounding board and dear friend to this day.
Another pivotal player in my career is legendary restaurateur Richard Melman, chairman of Lettuce Entertain You Enterprises. I had been a frequent diner and fan of his many restaurants growing up (Ed Debevic's was the first place I went after I got my driver's license!) and had the privilege of meeting him after being retained by his equally talented sons, RJ and Jerrod, for their first foray into restaurants—HUB 51—several years ago. A very modest and "under the radar" type of guy, Rich was quietly observing his sons' busy brunch crowd while I was visiting the restaurant one weekend with my family. I came over to merely say hello and he began asking me all sorts of questions about my career, was curious what led me to his sons and complimented me on the work my firm had been doing. We ended up having a 45-minute conversation that morning—and I left convinced that something important had happened (and told my husband that fact).
A month later, Rich had hired me to do a special project for him and, as they say, the rest is history. Today, we work with a number of his company's divisions assisting with the launches of some of the hottest restaurants in the country. Rich has continued to be a big advocate of my firm and a really valuable career resource for me. He has encouraged me to not grow Henson Consulting too quickly, to be wise and thoughtful about the people with whom I partner and surround myself. I am truly grateful that I happened to be at HUB 51 that fateful Saturday. The work we do for Lettuce has brought me great joy and satisfaction and I am proud that they are one of my firm's most valued and fun clients.
I could go on and on about the terrific and influential people I've had the good fortune of meeting along this 20 year journey—actress Jane Seymour, whom I met 15 years ago while at Edelman when she was a spokesperson, is now a client (we support her Open Hearts Foundation). Or, Doug Porter the CEO of Ronald McDonald House Charities of Chicagoland and Northwest Indiana, who is a terrific example of someone who uses his job to give back and connect people along the way.
So, how do you know if when you're meeting someone, that they could help influence your career—or possibly even change your life? You don't really. What you always need to keep in mind is that people come into your life for a reason and you should try and glean from them knowledge, insight and examples of how you want to be. Wendy showed me what a cool career PR could be. Janet taught me how to be strategic and creative, and Rich guided me to grow my firm thoughtfully surrounded by only the best people. My best career advice for you? Find people you admire and want to emulate and then become the best "you" you can be.


Kathleen Henson is founder and CEO of Henson Consulting, a boutique public relations and communications firm and 2010 and 2011 finalist for PR News' Platinum PR Awards Small Agency of the Year. You can reach her at Kathleen@hensonconsulting.com or follow her on Twitter @KathleenHenson.