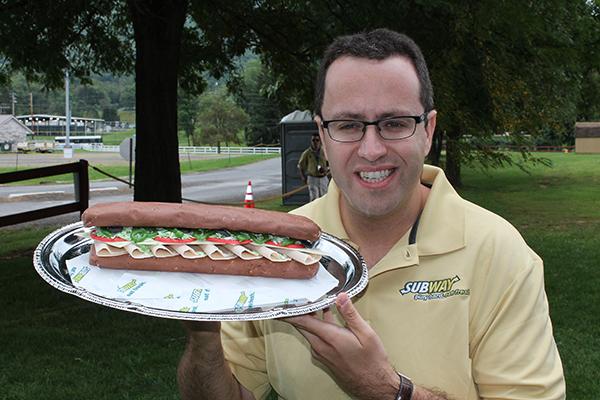 Subway wasted little time cutting its ties with longtime pitchman Jared Fogle after federal authorities raided Fogle's Indiana home on Tuesday as part of a child pornography investigation involving the former head of his nonprofit foundation, according to NBC News and other media reports.
Fogle's house was surrounded by police cars and officers as agents carried electronic equipment, including a computer, to an evidence truck parked in the driveway.
Subway issued this tweet last night: "Subway & Jared Fogle have agreed to suspend their relationship due to the current investigation. Jared is cooperating with authorities."
Ron Elberger, an attorney for Fogle, said in an emailed statement: "Jared has been cooperating, and continues to cooperate, with law enforcement in their investigation of unspecified charges, and looks forward to its conclusion."
The raid was reportedly tied to a prior investigation of a former Jared Foundation employee, Russell Taylor, who was charged with seven counts of production of child pornography and one count of possession of child pornography, according to The Wall Street Journal. Fogle started the nonprofit foundation to end child obesity.
For PR pros, the Fogle investigation points to the risk that brands and organizations take when they link themselves to an individual personality as opposed to multiple public faces. Due diligence is not foolproof, and a brand's reputation may be exposed to risk when it closely identifies with just one celebrity spokesperson.
Subway, which is owned by Doctors Associates Inc., started using Fogle as a spokesperson in 2000 after the then-college student claimed he lost nearly 250 pounds by exercising and adopting a diet of Subway sandwiches.
The popular pitchman has appeared in more than 300 commercials for Subway, and last weekend Fogle appeared at a NASCAR race sponsored by Subway, the Journal said.
Follow Matthew Schwartz on Twitter: @mpsjourno1