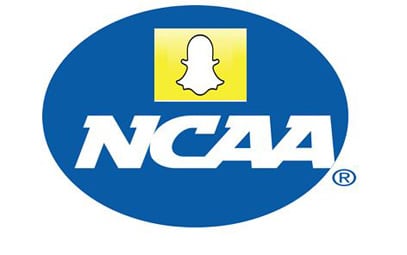 Long gone are the days when Snapchat was written off as simply a disappearing-message app that was all the rage among young people. Now, the social media platform has grown to become a major player in the content distribution game.
Just last week, Snapchat announced a deal with the NCAA and Turner Broadcasting to feature the Final Four basketball tournament via the platform's Our Story and allow users to share their live experiences from March Madness. This could be the first of many sports-related ventures for the platform, and it offers sports franchises, advertisers and broadcasters access to a wider audience.
While the NCAA Final Four deal relies on user-generated content that will be curated by Snapchat's in-house editorial team, January's release of the Discover feature was an innovation that gave brands and media companies the opportunity to publish their own content on Snapchat. AT&T is also getting in on the act with an original scripted series that will be featured exclusively on the platform.
McDonald's is one well-known brand that has successfully engaged with people on Snapchat through the creative application of content. Lainey Garcia, the company's external communications manager and a featured speaker on PR News' March 19 webinar, Create Snapchat Content and Reach New Audiences, noted, "With Snapchat ranking in the top three social platforms of interest for millennials, we find it to be an interesting and powerful complement to our PR arsenal." Garcia will share on the webinar how McDonald's leverages Snapchat to complement their PR work.
Snapchat is not just for big companies and national sporting events. Communicators from all kinds of brands should be encouraged to consider what the platform has to offer.
"If you are a B2B brand, millennials are the future of your business, and Snapchat is a way to start building loyalty with them now," said Michelle Mastrobattista, vice president of digital communications at Solomon McCown & Co. and another speaker at the March 19 webinar. One of the topics Mastrobattista will address on the webinar is the importance of engaging young audiences on Snapchat.
Learn how to leverage Snapchat for your brand by joining PR News' webinar, Create Snapchat Content and Reach New Audiences, taking place on Mar. 19.
Follow Richard Brownell: @RickBrownell