The business of Valentine's Day is a serious one for large online gifting retailers like ProFlowers and Shari's Berries. So the Pax storm that affected many parts of the U.S. for Valentine's Day deliveries was an unwelcome disaster, to say the least.
ProFlowers and Shari's Berries strive to deliver an exceptional gifting experience, no matter what the circumstance, even if it means a winter storm.
While weather conditions are out of our control, the way we treat our customers is fully within our reach. There's no denying that we had a difficult Valentine's Day due to weather conditions. Regardless of these unpredictable events, we stood by our promise of fresh flowers, delicious gourmet dipped berries and a great customer experience – no matter what.
Once we knew that Pax could potentially impact thousands of customers and delay their Valentine's Day deliveries, we developed a swift, three-pronged approach to mitigate the crisis and turn customers into loyal fans that will hopefully last for many holidays to come.
Be Proactive—communicate immediately, and often, during a crisis
Having a strong relationship with your customers even before a crisis happens is imperative when that crisis actually happens. We were accountable to that relationship before our customers could even demand it.
As soon as we knew the storm could affect deliveries, ProFlowers and Shari's Berries sent emails to customers alerting them of delivery delays. It meant a promise to remedy the situation at any cost.
We also notified customers that we would no longer take orders in affected areas. We had no intention of taking orders when we knew we could not fully deliver. We echoed this messaging throughout social media platforms and all communications.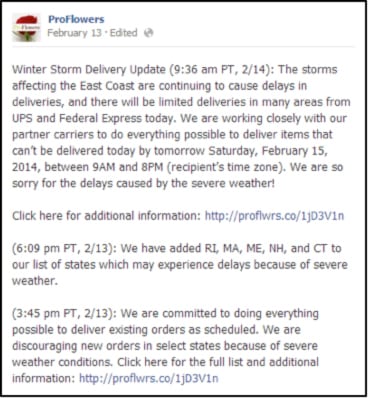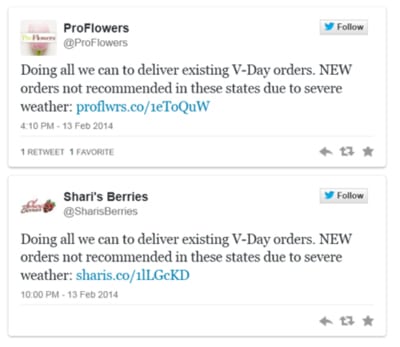 Be Genuine, Transparent and Authentic—Commit to maintaining an open, two-way dialogue and empower customers
In a crisis situation, companies need to be committed to their mission, vision and values. Part of our mission is putting our customers first, no matter what, and that is exactly what we did.
We didn't just apologize. We made things right by listening to customers and acting on our promise. We put our customers first, yet empowered them with information via several channels of communication.
We decided to email our customers, giving them the option of a refund, or a replacement with a credit towards their next purchase. That was very impactful and effective at giving customers a chance to decide.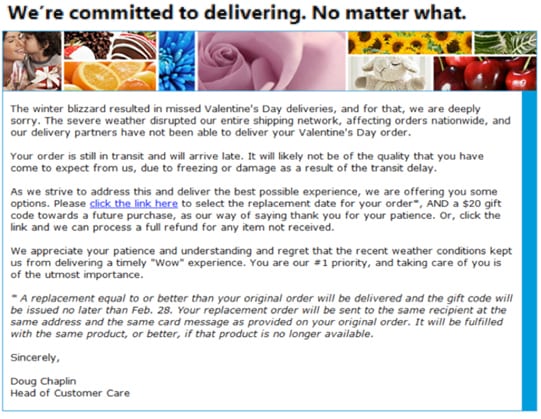 Over the course of the week following Valentine's Day, ProFlowers and Shari's Berries fulfilled its promise by honoring those replacements or refunds and continuing constant communication.
We responded to every single customer call, email, tweet, post and communication. The entire company rallied, and even our CEO Chris Shimojima personally addressed customers.
A two-way dialogue and transparency was part of the catalyst for shifting negative sentiment to positive branding.
Humanize your messaging and be compassionate
It's easy for consumers to forget that there are real people behind the company veil. We avoided artificial messages. We showed customers that we are people too, and that we're sorry for the fact that their Valentine's Day gifts didn't arrive, even though the weather was to blame.
We humanized our responses and put a face to customer service by posting photos of employees working hard to correct the problems.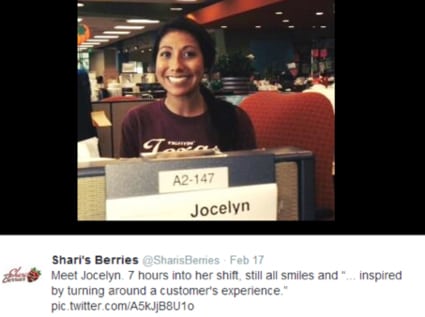 By Saturday, the day after Valentine's Day, Shari's Berries customers posted overwhelmingly positive messages, sometimes even urging us to stop and go home. By Sunday, we received two times more positive comments than negative, which continued through the rest of the week.
Initial negative sentiment for ProFlowers due to the Valentine's Day turned within four days—by February 18.
Staying true to our customers' satisfaction is part of our philosophy and way of business that we live and stand by, even if it means putting their needs ahead of our business plan. Turning those customers into loyal fans was an outcome that we hope will last for years to come.
Amy Toosley is Director of PR, Public Affairs & Corporate Relations for Provide Commerce. In this role, she oversees critical response communications, external communications and Corporate Social Responsibility. The gifting company's e-commerce brands include ProFlowers, RedEnvelope, Shari's Berries, Personal Creations and others.