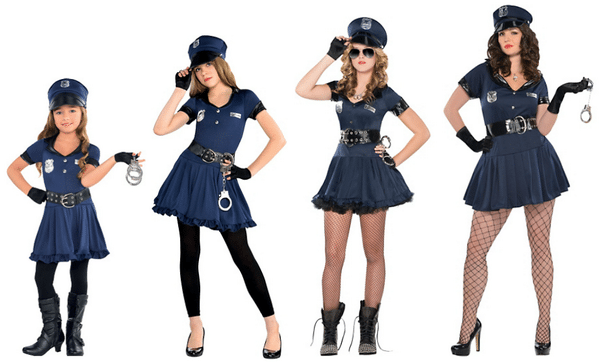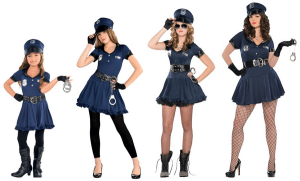 Party City, the national retail chain of party supply stores, has not responded to claims that it removed customer feedback from its Facebook page after a customer wrote a letter detailing her issues with the gender bias of the store's Halloween costumes.
After shopping Party City's website in search of a costume for her 3-year-old daughter, Lin Kramer decided to share her disappointment with the company's costume selection in an open letter posted to the store's Facebook page, The Huffington Post reported.
In the letter, Kramer details what she finds to be inconsistencies in costumes designed for boys and those marketed to girls. She found a large number of empowering costumes for boys, while girls' costumes were overly sexualized and non-career related. She specifically points to the police officer costume, and how the boys' version is described as having "a realistic scaled-down police shirt," while the girls' version is described as "cute cop" and features a skirt and V-neck top.
The open letter was nothing like the brand of Internet trolling that online communications is notorious for. Kramer used Facebook's comment feature in a way that any brand manager would be happy to see. She used a respectful tone to detail her dissatisfaction with the company and made appropriate suggestions with regards to her concerns.
The company then responded in typical fashion, commenting on her post saying that they were going to take her suggestions into consideration.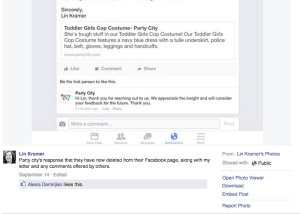 This is where it gets weird.
According to Mashable, Kramer said her post and the company's response were both deleted and she was temporarily blocked from commenting on the brand's page.
Whether this was an accident or intentional, the removal of customer feedback that doesn't include offensive language or content should never be removed from a public profile. Because of this, Party City is now dealing with a crisis during a crucially busy time of year for the company.
The story didn't take off because of Kramer's letter—the idea of doing away with gender labels on products for children isn't groundbreaking in and of itself. Target and Disney have already made moves to remove gender distinctions from children's products—it became a full-blown crisis for the brand after it censored a customer's concerns.
As a result, the brand's Facebook page has become a beacon for the debate on how companies create and market products to children. Users have weighed in on both sides of the issue, from promises to boycott the company for over-feminizing costumes designed for little girls, to those who say that anyone who doesn't like the brand's costume choices should quietly shop somewhere else.
Follow Mark: @MarkRenfree