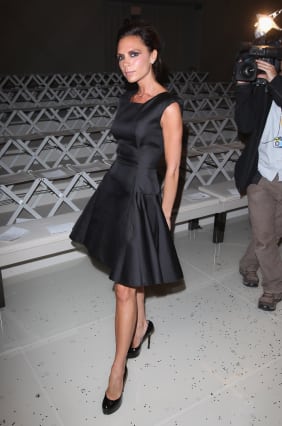 A-lister Victoria Beckham
When your brand has a name like Vera Wang or Ralph Lauren, you'd think that media attention would take care of itself. But this is Fashion Week in New York City and there's a whole lot of competition for coverage.
With so many runway shows and a finite number of (major) media outlets, there a major battle to attract the right media and to garner positive coverage for the fashion brands represented.
While the latest fashions are the central message of Fashion Week, that story is often overshadowed by who is in attendance. Stories coming out of Fashion Week are crammed with the A-list names who are sitting in the front row.
This is a mixed blessing for the fashion industry. While A-list celebrities guarantee more media coverage, it does not guarantee that the media coverage will focus on the fashions themselves. This poses quite a quandary for fashion PR professionals. They must fiercely defend brand integrity while, at the same time, earn as much positive media attention for the brand as they can.
There is clearly no single "right way" of executing a PR plan during an event like Fashion Week, but no matter what angle you take, the real key is preparation. Long before the week of the show, fashion publicists must target the celebrities that will not only bring media attention to the show, but to bring positive media attention to the brand.
Here are some lessons every brand can learn from Fashion Week:
Make a targeted list: Long before the show, fashion publicists make their wish lists:
Who is already positively associated with the brand? Obviously, the paid endorsers (the "Face of the brand." Secondly, celebrities who have been longtime fans ("Who are you wearing?").
Who's a guaranteed draw? The Top of the A-List are media magnets, but they often come at a price (up to six figures just to appear) and they can be so big that they distract from the brand.
Who's new and hot: PR pros need to take the pulse of the buying public. Each year you'll see the stars of the newest television shows. This year' Olympians, especially attractive Olympians like Gabby Douglas, Ryan Lochte and Sanya Richards-Ross are in high demand.
Have a back-up plan: A-list celebrities have a knack for showing up unannounced. All PR pros need to have a Plan B in place long before an event happens. Flexibility is much easier when you've built flexibility into your planning.
Cash in on your good will: Coverage of any event is often based on long-standing relationships with members of the media. Loyalty can go a long way to getting you the coverage you crave, no matter who is sitting in the front row of your competitor's show.
Follow Jon Gelberg: @Jon_Gelberg