When Viacom-owned channels such as Nickelodeon, Comedy Central and MTV were blacked out on DirecTV because of stalled carriage negotiations on July 11, hundreds of thousands of disgruntled consumers flocked to social media networks to complain. Though there was ample finger-pointing directed at both companies, most of the chatter focused on DirecTV. According to brand monitoring agency Loudpixel, DirecTV earned more than four times as many social mentions on July 10-11, and more than double on July 12-13.
On July 20, Viacom announced that it had reached a long-term agreement to renew carriage with DirecTV. In its statement, the company thanked "everyone affected by the disruption for their patience and understanding during this challenging period."
Loudpixel tracked the total amount of social media mentions across Twitter, Facebook, blogs, forums and mainstream media about Viacom and DirecTV over a four-day period to create the infographic below.

The overwhelming number of mentions of DirecTV compared with those of Viacom suggests that DirecTV may have lost the social media battle for viewers' allegiance, if we are to assume that most social media posts were critical in nature.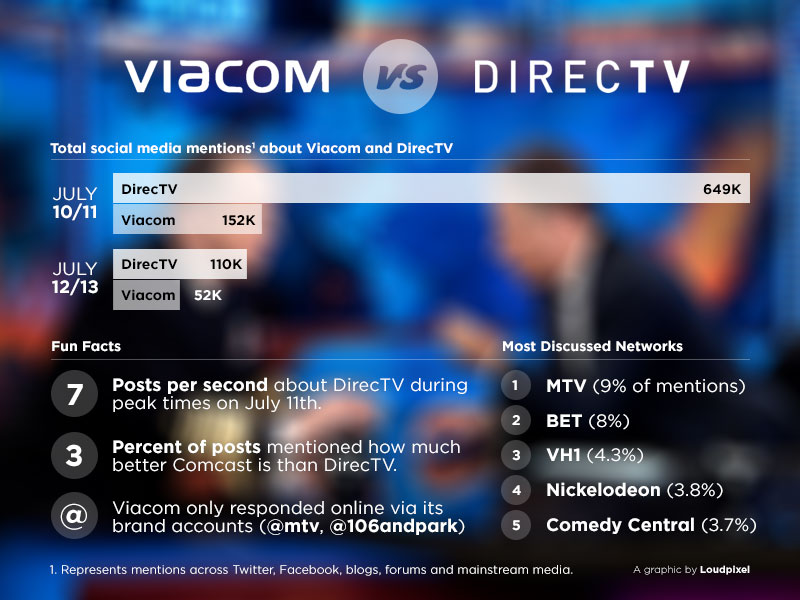 Follow Bill Miltenberg: @bmiltenberg