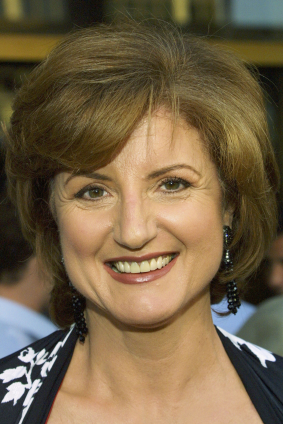 Arianna Huffington
Dueling articles about media entrepreneur Arianna Huffington's changing role at AOL, which acquired the Huffington Post in 2011, has raised an interesting question regarding a PR professional's relationship with the media. Specifically, is it possible for a media relations pro to do too good of a job?
On April 4, Brian Stelter of The New York Times wrote a story about how Arianna Huffington was assuming more control at AOL after an organizational revamp. He wrote: "The changes appear to give Ms. Huffington more authority within the closely watched media company, where her title is president and editor-in-chief of the Huffington Post Media Group."
The next day, Nicholas Carlson of Business Insider also reported on Huffington's move at AOL. His article was titled, "Actually, Arianna Huffington Has Been Demoted." In his story, Carlson wondered why Stelter cast Huffington's move as a sort of promotion, when all indications point to her having fewer responsibilities at AOL. "Huffington no longer has oversight over TechCrunch, Engadget, Moviephone, Stylist, AOL Video or, most importantly, AOL.com," said Carlson in the piece.
Carlson suggested that Stelter was influenced by Lauren Kapp, whom AOL had just hired to run marketing and press relations for the Huffington Post. A former senior VP of marketing and communications at NBC News, Kapp has had a working relationship with Stelter, who is writing a book about NBC's Today.
"Our source's theory is that Kapp placed Stelter's story to kill two birds with one stone: to promote her own hiring, and to promote (and impress) her new boss by getting ahead of the demotion story you are reading here," said Carlson in his article.
Stelter responded to the Business Insider piece through his Twitter account, answering a user who had asked him if he had seen the article by tweeting, "Yes. It has anonymous quotes; I had on the record quotes. It has no comment from AOL; I had AOL confirm my facts."
Whether or not Stelter was accurate in his assessment that it "appears" Arianna Huffington was given more authority within AOL, Carlson's story has made the media relations behind the Times article a central focus of attention—surely not a desired outcome from AOL/Huffington Post's point of view. It serves as a general reminder that when advancing a message about a person or a brand, it pays in the long run to be certain that the message hews as closely to the truth as possible.
Follow Sahil Patel: @sizpatel