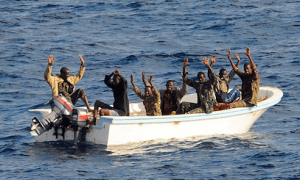 In April 2009, Somali pirates boarded a U.S. commercial cargo ship, the Maersk Alabama, took the ship's captain Richard Phillips hostage, and held him until he was rescued by the U.S. Navy several days later. This international crisis was depicted in the 2013 film Captain Phillips, starring Tom Hanks. As a member of the public relations team for Maersk, the company that owned the ship at that time, I learned several valuable PR lessons that could only possibly be learned from experiencing the first pirate hijacking of a U.S. ship in more than 200 years.
A crisis, by its very nature, is something unexpected, unplanned for or out of the ordinary. Attempting to guess how every possible situation might play out and proactively devising specific plans to respond in advance seems a lot like gambling.
Successful preparation for communicating in a crisis is similar to coaching a sport, like basketball, in that it's most effective when participants have necessary skills and have practiced applying them to a variety of situations.
Imagine two basketball teams competing against each other. One team rarely plays the sport but brings with them to the game extensive instructions from legendary coach Dean Smith on how to perform in nearly any situation. Their opponents have no such instructions but are in good physical condition, play together regularly, and practice dribbling, passing and shooting—the core skills of the game.
The second team in this scenario is much more likely to be successful because they can respond with agility to the quickly changing pace and situations presented in a game of basketball. Take some of these steps to develop crisis resources, increase flexibility, and hone core skills:
• Ditch the plan and opt for a process. Prior to the Maersk Alabama incident, I, like many PR professionals, had a large binder in a desk drawer that contained my "crisis plan." While there were some items in that binder that ultimately proved useful, we developed the vast majority of our tactics as the crisis unfolded. Instead of guessing which crises you will experience, determine and document key personnel who need to convene to make decisions in an emergency and develop the templates and resources they will need to communicate rather.
• Practice makes perfect (or at least better). Once you have a crisis process, key contacts and some tools in place, there is no substitute for practicing your response. Hold at least one crisis drill or exercise annually and adjust or update anything that doesn't work well.
• Build rapport with functional peers. To help avoid friction with functional peers (legal, HR, security) in your organization during the heat of a crisis, take time to establish a relationship with each of them. Discuss, even if only in hypothetical terms, how you would review information for release in a crisis situation, or better yet, involve them in a crisis drill.
• Sharpen your spokespeople. High-stress situations are amplifiers—they bring out the best in skilled communicators and the worst in those that are unprepared. Make sure you help your spokespeople stay sharp with periodic public speaking engagements and on-camera interviews. It'll make a real difference when they have to address a crowd or a group of media during a crisis, and it will help ensure credibility and resonance for your message.
This is an excerpt of an article from PR News' Crisis Management Guidebook, Vo. 7. To learn more about crisis management, order a copy of the guidebook here.