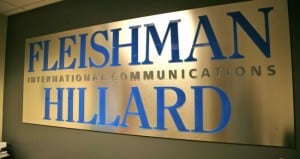 Fleishman-Hillard is the latest PR agency to refashion its company to reflect both the dramatic changes in media consumption and what marketers now demand in an increasingly digital age.
And the directions it is moving in tell an important story of where the industry is going, and where all PR professionals need to look for the skillsets of the future.
The PR agency, which dates back to 1946 and is part of the Diversified Agency Services unit of the Omnicom Group, will rebrand itself as FleishmanHillard, with a new logo and a new slogan, "The power of true." The rebranding was first reported in The New York Times.
Dave Senay, president-CEO of at FleishmanHillard, told the Times that the agency will be "channel agnostic," which is another way of saying that agency will embrace the full spectrum of communications, whether paid, owned or, in what has quickly climbed to the top of the PR heap, earned.
As part of the change, the agency is hiring a former longtime journalist Pat Wechsler, as senior VP and director for editorial and corporate content strategy.
Bringing in Wechsler, a former senior writer for Bloomberg, accelerates the trend among PR agencies top hire former journalists for the senior-management ranks.
In 2010, for example, Edelman hired Richard Sambrook, the former head of BBC News, as its first Chief Content Officer.
As content-marketing moves to become a core skill in marketing communications—and storytelling begins to trump press releases, brochures and other traditional forms of PR designed to get the message out—PR agencies are recruiting senior editors and reporters to cultivate new media strategies.
Wechsler was hired after FleishmanHillard brought in other executives who are starting to migrate into the PR field, such as analytics specialists, media planners, copywriters and art directors, the Times said.
Indeed, Senay was quoted as saying that the "the journey is just beginning" and the changes at the agency are just starting to take root. Referring to the employees who have worked on PR assignments before, Senay told the Times: "About a third are turned on by" the changes, about a third will go along and about a third will not get it."
For an agency with 2,500 employees, that promises a great deal of upheaval as well as the inevitable hiccups that accompany a significant rebranding. But our guess here is that other PR agencies and communications departments will follow FleishmanHillard's lead. The rapid pace of change in media and marketing leaves PR execs with little choice.
According to the Times, FleishmanHillard will promote its new identity via a quarterly digital magazine, titled FleishmanHillard True, as well a full-blown ad campaign that kicks off this week and is budgeted at $750,000.
Follow Matthew Schwartz: @mpsjourno1