Winner: Florida Realtors – Florida Realtors PAC, "I Give Because..." Campaign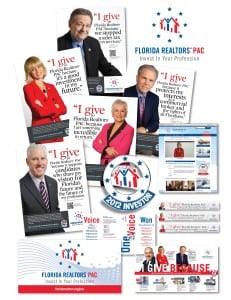 The purpose of rebranding RPAC (Realtors Political Action Committee) as Florida Realtors PAC was twofold: create a stronger identity that ties the committee more closely to Florida Realtors as the state association, and create a stronger bond between Florida Realtors PAC and its members. With that in mind, the Florida Realtors proceeded to launch the "I Give Because…" PR campaign. The campaign's objectives were to energize the Realtor membership to give to the PAC as an investment in their profession, raise more funding for the PAC and build awareness and a favorable opinion of Florida Realtors PAC among members and state legislators.
To support the campaign, the Realtors PR team created videos of Realtor members' stories and developed a new logo. It added the new logo, along with "I Give Because…" elements, to the Florida Legislative Center Web page on floridarealtors.org and created social messaging for the new Florida Realtors PAC, including a special section on Florida Realtors Facebook page. The pièce de résistance was a unique Florida Realtors PAC website, featuring a timeline of public policy milestones, achievements and other relevant content.
The rebranding effort paid off, with candidates supported by the PAC attaining a 93% success rate in the 101 races for Florida House and Senate seats. And with its "I Give Because…" leading the pack, members' participation in political advocacy grew by more than 6% in 2012, compared with 2011. The PR campaign also exceeded both the Major Investor and Presidents Circle participation goals set by the national Realtor association (NAR) in early 2012. —MatthewSchwartz
Honorable Mentions:
• #GivingTuesday Communication Team - Let's Get Out the Give this Holiday Season with #Giving Tuesday
• IES Abroad
• Longwood Gardens - Refreshing A Cultural Legacy Brand
• Society of Teachers of Family Medicine - STFM Logo and Corporate Rebrand
• Strategic Image Inc. - Catholic Charities Money School
Back to the 2013 Nonprofit PR Awards