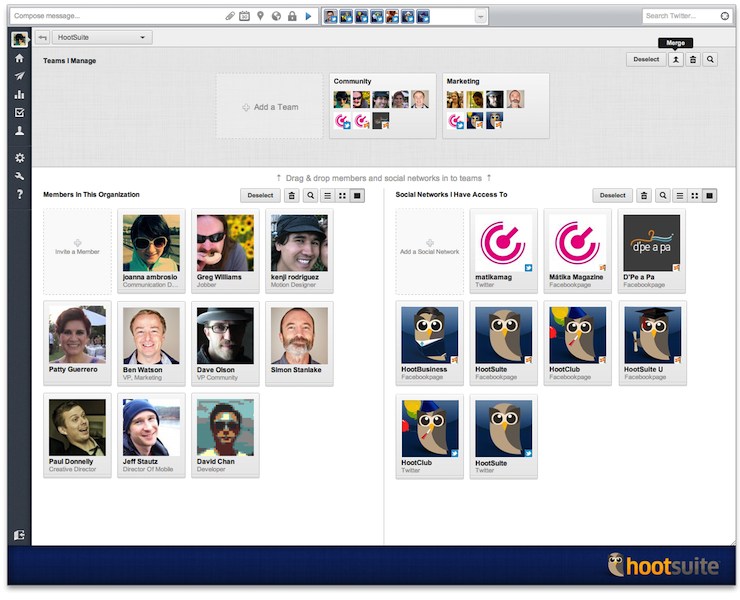 HootSuite's Teams feature, pictured here, now supports real-time
internal Conversations in addition to assignments and tasks.
Long considered a primary tool for managing a range of social media accounts from one place, HootSuite has turned the focus of its product for PR pros to focus on their internal communications.
With the goal of becoming even more of a one-stop social media dashboard, Hootsuite introduced a new collaboration tool, Conversations, which allows account members to have real-time, internal conversations with one another, across their organization, or with individual teams. The new feature is available now in a beta version for all three tiers of the product—free, pro ($9.99/month) and enterprise solution (price ranges)
There are, of course, a lot of other great free and enterprise social media monitoring tools out there, but here five reasons why HootSuite may fit your PR needs best.
Converse Internally: The new Conversations feature empowers team users to quickly confer with one another from within the dashboard to foster internal dialogue, similar to Salesforce's Chatter messaging service. If you're going to establish yourself as a thought leader and discussing social media tactics and strategy within your organization, why not do it alongside where all the action is? Messages from external social networks can even be pulled into Conversations for internal discussion.

Divide and Conquer: Team members can cut out the e-mail middle man and use the dashboard to assign who should respond to a disparaging tweet, or work on scheduling messages for the weekend together, all in one place. Empower an administrator to assign certain tweets that mention your brand and require responses, whether its from communications, marketing or customer service.

Establish a Social Base Camp: HootSuite allows you to integrate Facebook, Twitter, LinkedIn and Google+ Pages. Rather than launching four different browser windows to track conversations, you can keep everything in one place. While brand managers should still look at each of these individual platforms on their own URLs to better understand the typical user experience, monitoring each platform from one dashboard can help save time.

Auto Schedule for Primetime: HootSuite offers users the ability to schedule posts in advance on each social network. Caveat: Planning ahead on social media takes some foresight, fresh content and common sense. It's not recommended to set updates very far in advance (consider how your scheduled lighthearted, fun Friday post might look when it gets published on a day when your organization is enduring a crisis), but scheduling posts can prevent a page from going stagnant overnight and over the weekend.

You can also automatically queue messages for optimal distribution times. Whether you're sharing a link, an image or plain text, the auto-schedule feature determines optimal posting times to maximize reach, without swamping followers' feeds. Got a new product or message announcement that you want to reach the most followers, but aren't sure when the best time to post it is? Auto schedule does it for you.

Social Network Not Built In? There's an App for That: HootSuite's app directory is a collection of extensions and applications that you can add to the dashboard to create a customized experience, including Instagram, Storify, Tumblr, YouTube and Flickr. If your brand is using some of these other social media platforms, these apps will allow you to upload YouTube videos, view and add comments and likes on Instagram or view and post to your Tumblr.

Follow Bill Miltenberg: @bmiltenberg