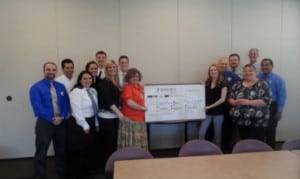 Winner: Edelman
"Being of Service" translates into the core values of Darden Restaurants, which is compromised of eight brands, 2,000 restaurants and 185,000 employees. The Darden Foundation deploys those values by having Darden employees give their time to nonprofit organizations focusing on post-secondary education, preservation of natural and resources and "good neighbor" works. But employees were looking to do more.
Edelman was retained to develop a signature program that would leverage Darden's assets to bridge the gaps in community giving and better engage employees. The result: Darden Foundation's Restaurants Community Grants Program, which enables every restaurant in the Darden portfolio to help award a $1,000 grant to an exceptional nonprofit in its local community.
More than 90% of Darden restaurants took part in the program, while many of the businesses partnered and combined their grant dollars to make a deeper impact for local communities. Edelman provided Darden with talking points to reach out to local nonprofits and developed messaging to target regional and local media outlets.
The effort culminated in more than $1.7 million being handed out to nearly 900 nonprofit organizations across the U.S. and Canada. It also garnered more than 63 million media impressions across print, online and broadcast outlets and 150 pieces of organic coverage.
Honorable Mentions:
Direct Impact
Frause
Hill+Knowlton Strategies
Stratacomm