Winner: Cone Communications for Nestlé Waters North America - Reinventing Recycling through an Extended Producer Responsibility Model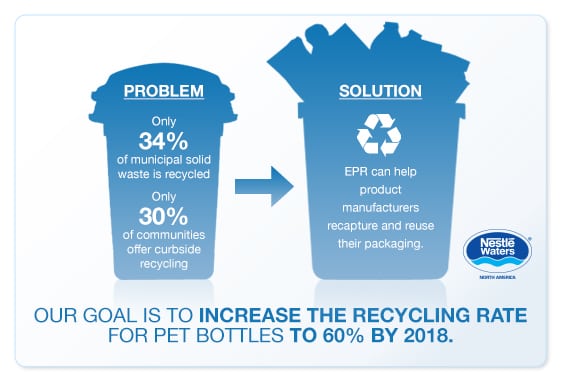 In 2008, Nestlé Waters North America (NWNA) set an ambitious goal to double recycling rates for PET plastic beverage containers in the U.S. to 60% or better by 2018. That was a tall order, with the U.S.'s overall recycling rate stagnating at 34% and recyclable materials worth billions of dollars ending up in landfills each year. So Nestlé introduced Extended Producer Responsibility (EPR), a collaborative model that would bring the financial responsibility of recycling to the industry and out of government hands.
NWNA and PR agency Cone Communications undertook the following strategies to make the model work: Collaborate with a broad range of stakeholder groups; promote the value of recycling and recycled materials, ultimately increasing the supply of recycled PET plastic (rPET); and spread the word about EPR to consumer and trade media, industry influencers, recycling experts and other stakeholders.
In 2012, NWNA and Cone participated in a dialogue process facilitated by the nonprofit Future 500, bringing together more than 30 organizations to talk about the best attributes of an EPR model in the U.S. and how to craft and successfully pass state-level legislation, beginning in 2013; directly supported the start-up of Recycling Reinvented, a new nonprofit committed to increasing recycling rates in the U.S. through EPR; identified influential CSR, environmental, business and trade outlets and issue experts, as well as outlets in NWNA priority markets/regions; and conducted outreach to obtain coverage on the business case for EPR, benefits of recycling and new rPET product launches, and more.
Results for 2011-12 include: More than 75 unique media placements in CSR, environmental and business trade publications–more than 100 million media impressions; thought leadership through bylined blog posts and interviews; 13 conference presentations on the benefits of EPR; and three new 50% rPET products launched, creating awareness of rPET and recycling in the Baltimore/Maryland and California markets, resulting in more than 56 million media and consumer activation impressions. —Scott Van Camp
Honorable Mentions:
City of San Diego - Water Purification Demonstration Project Outreach Program

TerraCycle, Inc. - TerraCycle Brigade Program

Universal Textile Technologies - Project Yellowstone