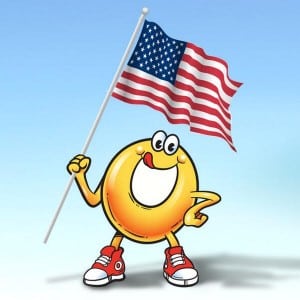 It's one thing when brands try and align their message with "Hallmark" holidays such as Valentine's Day or April Fool's Day. But it's another when brands try to leverage somber anniversaries, such as last weekend's 72nd anniversary of Pearl Harbor, as Campbell's soup brand SpagettiOs has now learned the hard way.
On Friday the Twitter account for SpagettiOs sent out a tweet asking its followers to "Take a moment to remember  #PearlHarbor with us."
The image features a cartoon mascot, drawn to look like an O-shaped noodle, sporting red high-top sneakers and waving an American flag.
The Japanese surprise attack on Pearl Harbor on Dec. 7, 1941 killed 2,335 U.S. servicemen and propelled the United States into World War II.
Shhh, listen closely. What's that sound? A collective groan from PR managers who know a communications flub when they see one.
It didn't take long for the blowback to kick in, as social media responded to the tweet with criticism from people who found that tweet in poor taste, to say the least.
"@SpaghettiOs In what way was a happy logo supposed to respect those who DIED at Pearl Harbor. Do you even know what happened that day?" tweeted @eplawyer, while @lauderdaleagent tweeted, "@SpaghettiOs You might have thought to run it up the flagpole before tweeting a HAPPY noodle on this, a SAD day...thousands died."
On Saturday, a representative for Campbell Soup Co. said in several news reports that the message had been deleted.
SpaghettiOs, which has more than 11,000 followers, sent out a follow-up tweet stating, "We apologize for our recent tweet in remembrance of Pearl Harbor Day. We meant to pay respect, not to offend."
Campbell said the Twitter account is managed internally, rather than by an agency.
The PR lesson here is fairly obvious (or, at least should have been to anyone at Campbell who wears a PR or marketing hat).
To wit, if you want to align your brand with a tragic anniversary, such as Pearl Harbor or the September 11 attacks, don't be cute or clever. Don't create goofy cartoon characters that will only serve to trivialize the anniversary and alienate customers and prospects.
In such cases, it's best to have a simple text message—sans any corporate imagery, logos or cartoon characters—that acknowledges the anniversary and pays respects. Period. Anything beyond that and you risk the backlash that Campbell had to incur.
Follow Matthew Schwartz: @mpsjourno1