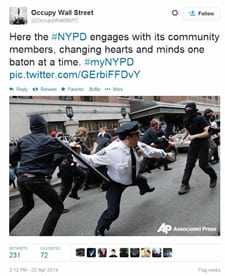 The New York Police Department's public relations efforts suffered a major setback yesterday after the department encouraged Twitter users to post photos of interactions with police officers along with the hashtag #myNYPD. The Twittersphere was quickly deluged with unflattering photos of officers fighting with Occupy Wall Street protestors, engaging in rough arrests and even shooting a dog.
The NYPD has been very active on social media in recent weeks, according to the New York Times. Commissioner William Bratton and five commanders on the force now regularly tweet as part of the effort. This latest campaign was just another extension of that. Some images of New Yorkers and tourists posing with smiling cops and officers on horseback did materialize, but the NYPD clearly lost control of the Twitter conversation.
#myNYPD became the top Twitter hashtag by the end of the day Tuesday, replacing #HappyEarthDay. Over 70,000 people posted negative comments, according to the Daily News.
The lesson for brands and organizations: Anytime you want to engage the public on social media, be aware of the disconnect between the story you tell each other internally about your brand (aka drinking the Kool-Aid) and the stories shared externally about your brand. Be aware that the internal perception of your organization will not necessarily match the public perception—that seemed to be the case with the NYPD. You need to promote your strengths while remaining aware of your weaknesses, or you run the risk of being embarrassed in a big way.
The NYPD emphasized that it will continue engaging the public on social media. Spokesman Stephen Davis told the New York Times, "You take the good with the bad."
The NYPD learned a painful lesson in PR. Before engaging in any open campaign on social media that seeks to engage people on a wide scale, you must ask yourself some serious questions. What is the public perception of your organization? Is it positive or negative? Why? How do you plan to keep the conversation on point? What will your response be to negative commentary?
If you can't answer these questions, then you may want to rethink your campaign.
Follow Richard Brownell: @RickBrownell