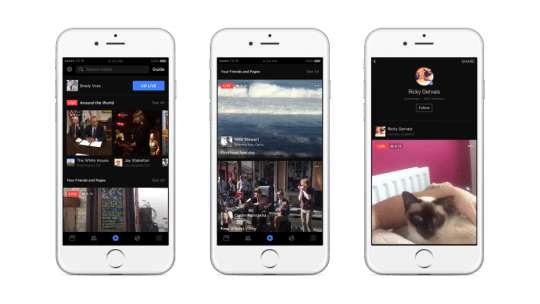 Earlier this year, Facebook expanded its live video service to all users, and now the social media behemoth is really throwing its weight behind the effort. A barrage of new features and functionalities is coming to the service, Facebook announced this week. In brief:
1: Facebook is rolling out the ability to go live in Groups and Events; that is, instead of broadcasting video to your entire newsfeed, you can tailor it to specific audiences who are e.g. interested in wine tasting or have RSVP'd to a concert.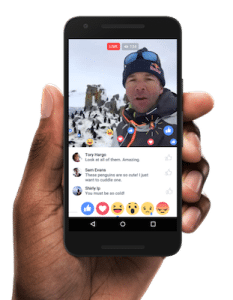 2: The new reactions that have augmented the simple "Like"—Love, Haha, Wow, Sad and Angry—are now also Live Reactions that can appear in real time during a live broadcast, which promise to add more nuance as far as knowing exactly which part of a video viewers enjoy or don't enjoy.
3: Live Filters. You know, like the classic Instagram filters, but for live video. Only five for now, but expect more in the future (as well as the ability to draw on your video while streaming).
4: An option to invite a friend to a live video as you're streaming.
5: A dedicated place on the Facebook mobile app to discover live video, in a tab at the bottom of the screen where Messenger used to be. It's a premium placement that emphasizes Facebook's desire to bring more people on board with live video.
6: The desktop equivalent to the above: Facebook Live Map, where you can check out what's being broadcast all around the world.
Importantly for communications pros, Facebook is also introducing new metrics for Pages that share live video; Facebook claims that current data show people comment 10 times more on live videos than regular videos.
Clearly there's a lot here for PR teams to sink their teeth into. We recommend clearing some calendar time in the coming weeks to get familiar with the new functionalities.
The battle between Facebook, Snapchat and Twitter's Periscope to dominate live streaming video is really heating up. Will one of them get pushed out of the game, or does this simply herald a new paradigm where all social media platforms will need to compete in this arena to be relevant? Time will tell.
Enhance your Facebook knowledge and more: Join us at the PR News Social Media Workshop, April 20 in Washington, D.C. 
Follow Ian: @ianwright0101